The Men of Airtime, Looking for Love
By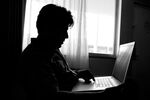 The first time I hit the "Talk to Someone" button on Airtime, the widely hyped, celebrity-endorsed new video-chat service, the image that popped up on my screen was two blinding squares of light. As my eyes adjusted, I realized they were the windows of an apartment somewhere. A couple of seconds later, an enormous ear moved into the screen, followed by a forehead—and then that half of my screen went blank as the man on the other end of the connection hit the "next" button and I was thrown back into the digital hopper, to be matched with another chance conversational partner.
How do I know my first Airtime interlocutor was a man? Because everyone on Airtime is a man, at least everyone who is trying the Chatroulette-style random video-chat feature. During the trial run I took, I was matched with 14 different people and they were all men. Most, it turned out, weren't interested in talking to me. I got the strong impression that it was because I also am a man.
Airtime is, in part, a service that allows people to easily video-chat with friends; Skype and Google offer similar services. But a major part of the site is its random chat feature, which has been described by its founders, Shawn Fanning and Sean Parker of Napster fame (in Parker's case, Facebook fame, too), as a way to reach people outside their "social graphs." I suppose it does do that. But much of the time I spent spinning through the website's matching tool reminded me of how nice it is to have a social graph—if that's what you call people who actually want to talk to you.
My second match was a muscular man with a gleaming, shaved head and goatee, seated in front of some sort of shiny black curtain. We were connected long enough for him to lean forward and click the "Next" button, and for me to notice that he listed "Pantera" in the list of interests that in Airtime appear below a person's video image to help chatters find things to talk about. (I was sad I missed a chance to tell him that my wife used to be a bit of a Pantera fan, but then I thought I wasn't sure I wanted him to know anything at all about my wife.) My next partner listed "Kerala University" and "Mechanical Engineering" among his many interests and was also not interested in talking to me. The next one was sitting pretty far away from the computer, leaning back on a couch in a way that made his crotch fill most of the image. Because of that, it took him a few extra seconds to lean forward and hit the "next" button. He was wearing pants, so I did not to report him for inappropriate behavior. That's one of the features, along with linking Airtime to people's Facebook accounts, that the site's founders promise will keep Airtime relatively free of the men exposing themselves that overran its predecessor, Chatroulette.
The next man looked South Asian or Middle Eastern, and he was standing in his bathroom in a white tank top in three-quarter profile. He appeared to be posing, and seemed genuinely surprised when I turned out to be a man. Maybe I was his very first attempt. The one after that was watching television, so it took him a little while to see me pop up on his screen. He was a fan of the Barcelona football club and "Nails Couture in Abu Dhabi." I would have liked to ask him about that, but didn't get the chance.
It's possible that the demographics of Airtime will change as its user base grows. Not all my interactions were so abortive. I spoke with the sales and marketing manager of a construction company in Saudi Arabia. He had never been to the U.S. and he said he'd love to come work, but we agreed that now is not a great time for construction companies here. I spoke with a young father in Brooklyn while he changed his kid's diaper. We talked desultorily about Airtime for a few minutes and he held his baby up to the screen, then said he had to go. I spoke with a very friendly and thoughtful filmmaker in Bogota who was using Airtime to collect stories. Between his accent and the poor connection, I had trouble understanding much of what he said. But he liked how much less "creepy" Airtime was than Chatroulette. He said he had met all sorts of interesting people: lots of tech people and someone in California who played his violin for him. He clicked an on-screen button that gave me some "applause points"—"You're not creepy," he said—and then I gave him some, too.
Then I talked to that violinist in California—perhaps it was just chance, perhaps it's a sign of the small number of people on the site right now. There's a feature on Airtime that lets you choose the ways you're connected to people you talk to: geographical proximity or shared interests, things like that. We were connected, Airtime told us, because we had a common Facebook friend. My interlocutor, who had a boyish face and wore a baseball cap low and askew, had studied classical violin but was now, he said, into San Francisco's "queer rap" scene. He was holding his violin and, when I asked, played a short little improvised piece. I also play the violin, or at least I used to, and I thought it would have been cool if I had had mine, too, and we could have played a duet or something.
Afterward, based on our conversation and the interests he listed, I was able to easily look up the hip-hop violinist. According to his Facebook site, he plays the piano and viola and is fluent in French. He was also transgendered—born a woman, he is in the process, through testosterone therapy, of making the transition to being a man. "You do meet a lot of men looking to meet girls on here," he had said when we were on Airtime, "but I can't really help them with that."
Before it's here, it's on the Bloomberg Terminal.
LEARN MORE