Europe Considers a Spanish Bank Rescue
By and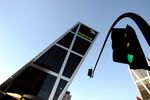 It may be the scariest chapter yet in Europe's three-year debt crisis. After days of increasingly grim news from Spain, European finance ministers have scheduled a June 9 conference call to consider a possible rescue package for Spanish banks.
According to people briefed on the planned call, the discussion will focus on recapitalizing lenders hit hard by the bursting of Spain's real estate bubble. That's sure to be costly: Fitch Ratings, which on June 6 cut Spain's debt rating by three grades, to two steps above junk, said bailing out the banks could cost as much as €100 billion ($125 billion). Banking analysts at JP Morgan Chase put the figure at as much as €150 billion.
Fears about Spain's banking sector have intensified in recent days, after Bankia, the country's third-largest lender, said it needed a €19 billion bailout. Standard & Poor's said on June 6 that it expected Spanish banks to suffer €80 billion to €112 billion in loan losses through 2013. "Once we can resolve this and get the banks adequately capitalized, the outlook for Spain may be a little bit brighter," says James Nixon, chief European economist at Société Générale in London.
Trouble is, it may not be enough. For one thing, the banks aren't Spain's only problem. The country's borrowing costs have risen sharply, reflecting doubts that the government of Prime Minister Mariano Rajoy can finance its budget deficits. Adding to the fear is the size of Spain's economy, more than twice the total of Greece, Ireland, and Portugal, the three countries that have already gotten help from the International Monetary Fund and their European neighbors.
Malcolm Barr, an analyst at JP Morgan Chase in London, says a bank rescue package would only underscore Spain's weakness, by providing "a clear demonstration of the limits of the ability of the [government] to raise funds" on its own. "A banking support package would … likely … turn out to be a stepping stone to a broader package of support for Spain," he wrote in a June 8 research note.
Moreover, Spain's troubles underscore the fact that Europe's leaders remain divided on how to address the crisis. "I don't think the Spanish bailout will be enough," Nick Kounis, head of macroeconomic research at ABN Amro, said on Bloomberg Television. "It's only one piece of the jigsaw. We need a wider plan which puts forward far-reaching institutional change, a banking union, a fiscal union."
Before it's here, it's on the Bloomberg Terminal.
LEARN MORE