Can Our Smart Phones Convince Us to Walk More?
How Americans might be able to leverage technology to get back in our pedestrian groove.
By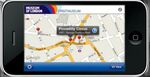 Walking may be the most ancient mode of human transportation, but in the 21st-century United States it has become an endangered form of locomotion. That was the gist of journalist Tom Vanderbilt's keynote address at a symposium called "Walking and the Life of the City" held yesterday by the NYU Rudin Center for Transportation Policy and Management.
Vanderbilt noted that people in the U.S. walk less than the citizens of any other industrialized nation, logging about 5,000 steps a day compared to nearly 10,000 steps per day in Australia and Switzerland and more than 7,000 in Japan. "Walking is what you do when you park your car," said Vanderbilt, whose series of articles about walking over at Slate provide a great overview of "how we got off the pedestrian path."
But some of the most interesting research presented at the forum suggested that smart phones could make urban walking the hot new thing again, although perhaps at a cost to our traditional spatial cognition.
Sarah Kaufman, a research associate at the Rudin Center, broke down the latest in "augmented reality" (AR) applications, which may sound like science fiction but are really already in a smart phone near you. She gave the example of New York Nearest Subway, an app that allows you to hold up your iPhone and see the nearest train stations displayed on the video screen (a similar app for Android, Wayfinder NYC, won the 2010 Big Apps competition). Not quite so practical, but very fun, is the Streetmuseum app from the Museum of London, which overlays your phone's view of certain modern streets with historical pictures and information.
Apps like these are just the beginning for AR, says Kaufman, who expects that in the not-too-distant future, information, navigation, social networking, and advertising related to our surrounding physical environment could all be integrated on devices that we carry with us or wear (like the kind of creepy-looking Google Glass project headset). Maybe someday, she said – and it seemed she was not entirely joking – we will have chips implanted in our brains to augment reality.
Kaufman said she was excited to see more AR innovations, although she admitted that the technology could come with some negatives, such as compromised privacy, unwanted information, social detachment, and over-reliance on devices. But she said that AR can also enrich urban exploration, introducing a "new form of randomness" into our walks around cities.
Andrew Mondschein, another Rudin Center fellow, presented research suggesting that people who have cell phones make social trips further afield than those who don't. While the findings are preliminary, Mondschein is researching the possible link between the availability of information -- not just on phones, but also online -- and a potential expansion of the city-dweller's horizons.
People who can find destinations and directions with information technology, Mondschein suggests, may be more likely to travel beyond the boundaries of their "cognitive maps," the schemes we all hold in our heads of our home environments. Being able to carry information easily on a phone might make people feel safer and more likely to venture to new places. That could bring much-needed activity and revenue to previously marginalized far-flung neighborhoods.
But Mondschein cautioned that we don't yet understand how access to cell phone map navigation technology might affect our ability to form cognitive maps in the first place. When we are walking, he said, we are constantly learning. His research has found that people who get around by walking understand their environments better and can estimate distances to landmarks more accurately than people who are passengers on transit, for instance. It echoes recent research by Bruce Appleyard suggesting that children who are driven everywhere rather than being able to walk or ride bikes have a diminished awareness of their neighborhoods.
If we are relying on technology rather than our brains to navigate our environment, could walking become essentially a passive mode of transportation, like riding as a passenger in a taxi or on a bus? As we become more dependent on augmented reality, could we lose our ability to negotiate physical reality?
It's too soon to say, said Mondschein. "There is a possible impact on a basic learning process," he said. "We don't know what might be lost in translation."