Text Your Next Political Donation
By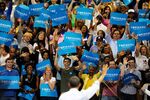 Mark these words: There is one thing Mitt Romney and Barack Obama agree on.
Both candidates want to start raking in money for their presidential campaigns by text message. The Federal Election Commission on Thursday discussed a proposal that would allow candidates, parties, and outside groups to collect small-dollar contributions via cell phones. According to The Hill, the hearing went well for proponents of the plan and approval may come Friday. Both Romney's and Obama's campaigns have written to the FEC in support of the proposal. That's no surprise. If the agency approves the plan, it could be a game-changer.
People are already accustomed to using their cell phones to vote off contestants on reality shows, or to help out a school or favorite charity. The Pew Research Center reported in January that 9 percent of Americans have made a charitable donation by text. The American Red Cross's text "Haiti" campaign after the earthquake in 2010 netted more than $32 million.
Mark Armour, a Democratic campaign consultant in Los Angeles who's part of the group petitioning the FEC, says the potential revenue could run to "tens of millions of dollars. I can't even put a ceiling on it."
Armour and his friend Alan Sege, executive vice president at mobile payment processor m-Qube, hatched the idea to pitch the FEC on text contributions earlier this year. Under their proposal, m-Qube—which processed all that money designated for Haiti relief—would act as a middleman between the phone companies and the campaigns. You'd be able to give up to $50 a month. Campaign finance watchdogs love the idea, saying it would give low-dollar donors a fighting chance of influencing an election in the era of super PACs.
It's not clear yet just how much of each transaction would wind up going to the campaign once all the middlemen get their cut. The companies have told the FEC that after fees charged by the wireless companies and m-Qube itself, campaigns could clear 50 percent to 70 percent of each donation. That sounds costly. But Sege says that's a "worst-case scenario." Armour says campaigns will sign up "regardless of how much [the phone companies] charge" because it's a way to find new, loyal donors they can solicit time and again. "You now have a phone number," he says. "You can go back to these people."
The FEC requires campaigns to disclose donors who give more than $200 a year, and to keep internal records on those who give $50 or more. In the scenario m-Qube and Armour's company are proposing, donors would remain anonymous. At its first hearing on the issue last month, some FEC commissioners expressed concern that if relatives sharing a family cell-phone plan texted multiple contributions—but only one family member paid the bill—then the campaign could run afoul of the law.
Craig Engle, the lawyer who represents Armour and m-Qube, says donors would have to agree to terms stating that it's their own money they're giving. "A person could theoretically put a $50 bill in an envelope every day to the same committee 365 days out of the year and in that year make a total of $18,250 in donations to that one political committee," he adds. "Is that possible? Of course it's possible. Is it likely? No."
Republican commissioner Donald McGahn said last month that he's on board. "What's nice about your request," he told Engle, "is it's brought together Obamney—Obama and Romney. This may be the last time this year that they agree."
Before it's here, it's on the Bloomberg Terminal.
LEARN MORE