MBA Alumni in the News: June 7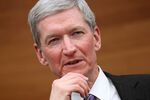 Each week, Bloomberg Businessweek brings you an update on how MBA alumni from top business schools are making news—the good, the bad, and the ugly. This week, graduates from Duke, Harvard, and Chicago were among those making headlines:
Thanks, But No Thanks: Tim Cook, the Apple chief executive and a MBA grad from Duke University's Fuqua School of Business, turned down $75 million in dividends on more than 1 million shares of company stock. Cook asked to be excluded from an Apple program that allows employees to accumulate dividends on restricted shares that are still vesting. Cook's 1.125 million shares vest over the next 10 years.
Annals of Real Estate: Jon Corzine, the former governor of New Jersey and former co-chairman of Goldman Sachs who presided over MF Global as it descended into bankruptcy, sold his penthouse in Hoboken, N.J., at a loss. Corzine bought the apartment in 2008 for $3.26 million and put it on the market for $2.9 million in January, ultimately selling it for $2.8 million, 14 percent less than the purchase price. Corzine has his MBA from the University of Chicago Booth School of Business. Meanwhile, billionaire hedge fund manager John Paulson, a Harvard Business School MBA, bought a 90-acre ranch in Aspen, Colo., in a $49 million deal that included a second property in town. The ranch includes a 55,000-square-foot house. The previous owner, Saudi Prince Bandar bin Sultan, originally offered the ranch for $135 million.
A Healthier Big Apple: New York City Mayor Michael Bloomberg, a Harvard Business School MBA, continued his war on obesity, proposing a ban on supersize servings of sugary drinks in restaurants, movie theaters, stadiums, and arenas. The Bloomberg administration has already blocked sugary drinks from school vending machines, required restaurant chains to post calorie counts on menus, and posted ads on the dangers of sugary drinks in subway cars. The mayor is founder and majority owner of Bloomberg Businessweek parent Bloomberg LP.
Sex and Silicon Valley: Ellen Pao, a partner at the venture capital firm Kleiner Perkins Caufield & Byers who got her MBA at Harvard Business School in 1998, is suing the firm alleging sexual discrimination. In her complaint, Pao alleges that she was subject to retaliation after ending a sexual relationship with a junior partner shortly after joining the firm in 2005.
A Two-Fer: Anshu Jain, who has an MBA from the Isenberg School of Management at University of Massachusetts at Amherst, and Juergen Fitschen, who has one from the University of Hamburg, took the reins at Deutsche Bank. The two replace Josef Ackermann, who ends a 10-year reign as CEO of the company.
Disney Seeks a Savior: Walt Disney put former Warner Bros. Entertainment President Alan Horn in charge of its struggling film operation. Horn, who oversaw the Harry Potter and Dark Knight pictures at Warner, will handle production, distribution, and marketing of Disney films and those from the company's Pixar and Marvel divisions. He replaces Rich Ross, who stepped down in April after John Carter bombed. Horn got his MBA from HBS.
Trading One CFO Job for Another: Orbitz Worldwide Chief Financial Officer Russell Hammer resigned to take the same position at Brown Shoe. Hammer, who has an MBA from DePaul University's Kellstadt Graduate School of Business, was previously the CFO of Crocs and is returning to the footwear industry. He is being replaced on an interim basis by David Belmont, the vice president for financial planning, who has an MBA from Cornell's Johnson Graduate School of Management.
Another Notch for Booth Alum: George Kadifa, an MBA alum from Booth, was named executive vice president of the Hewlett Packard software business. Kadifa has had stints at IBM, Xerox, and Booz-Allen and was chairman and CEO of Corio, an application services provider. At HP, he'll report to chief executive Meg Whitman, who has an MBA from HBS.
Sloan Alum Lands CEO Post: John Nicols, an MBA from the MIT Sloan School of Management, was named president and chief executive of Codexis, an industrial biotech company in Redwood City, Calif.
Nice Work If You Can Get It: Henry Kravis, co-founder of KKR and an MBA alum from Columbia Business School, pulled down a cool $30 million in 2011, topping Bloomberg's Finance 50 list of the highest-paid chief executives at U.S.-based financial companies. Also in the top five: John Strangfeld of Prudential and the University of Virginia's Darden School of Business, and Jamie Dimon of JPMorgan Chase and Harvard Business School.
Join the discussion on the Bloomberg Businessweek Business School Forum, visit us on Facebook, and follow @BWbschools on Twitter.
Before it's here, it's on the Bloomberg Terminal.
LEARN MORE