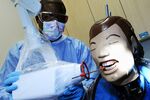 Why are people out of work? Is it because there aren't enough jobs, or because people aren't qualified for the openings that exist? Democrats tend to favor the "not-enough-work" theory, while many Republicans lean more to the unqualified-worker hypothesis. Bloomberg Businessweek's Matthew Phillips waded into the debate last month with a good piece called "The False Theory of the Growing Jobs Mismatch."
Now, economic research published June 6 by the Federal Reserve Bank of Chicago [PDF] concludes that evidence for a skills mismatch is "limited." Write senior economists Jason Faberman and Bhashkar Mazunder: "If there is a skills mismatch in the U.S. labor market," it may be most significant for workers with "medium skills."
I asked Faberman and Mazunder what they meant by jobs that require medium skills, since it's not in the paper. Here's the written answer: "Most occupations in this zone require training in vocational schools, related on-the-job experience, or an associate's degree. Some may require a bachelor's degree."
Examples of such jobs?
People who install and repair electronic equipment on motor vehicles
Lathe and turning machine tool setters and operators
Dental assistants
Electricians
Fish and game wardens
Legal secretaries
Personnel recruiters
Recreation workers
That's not to say there are shortages in any of these particular occupations.
Faberman and Mazunder created an "index of labor demand" based on the number of online help-wanted ads for different occupations as compiled by the Conference Board. An increase in want ads makes the demand index go up. They found, predictably, that the demand index has been rising since the end of the recession in 2009. But it has risen the most for medium-skilled occupations. Demand for the highest- and lowest-skilled occupations grew rapidly in 2010 but was growing very slowly by the end of last year, when the research ended.
It's interesting to think about why there could be shortages for some kinds of labor and not others. As Faberman and Mazunder point out, labor economist Robert Shimer of the University of Chicago invented the concept that people live on different labor "islands." His islands represent different subsets of the economy, distinguished by location, skill requirements, and so on. Each person can search for work only on his or her own island. Some islands have a surplus of jobs, while some have a surplus of workers.
Shimer's island metaphor is useful. The way to reduce skills mismatch, following Shimer's logic, is to build bridges between islands—make it easier for workers to change cities, for example, or learn a new skill. But if the big problem is simply an economywide lack of work, journeying to another island won't help a bit. If the Chicago Fed analysis is correct, that's probably the main problem right now.
Before it's here, it's on the Bloomberg Terminal.
LEARN MORE