business
Fed's Janet Yellen Warns Against 'Downward Spiral'
Bernanke relatively reticent
By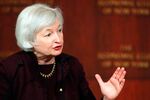 The most impressive Federal Reserve speech this week wasn't Chairman Ben Bernanke's guarded remarks today before Congress's Joint Economic Committee. It was a speech on Wednesday in Boston by Vice Chair Janet Yellen, who warned that things could start to get really bad if the Fed doesn't stay ahead of the curve.
Here's what she said, as reported by Caroline Salas Gage of Bloomberg News: "It may well be appropriate to insure against adverse shocks that could push the economy into territory where a self-reinforcing downward spiral of economic weakness would be difficult to arrest."
That's been the philosophy of Bernanke's Fed ever since the financial crisis began in 2008: The risk of a downward spiral is so great that the Fed needs to lean over backward to make sure it doesn't get started—even to the point of erring on the side of keeping monetary policy too loose for too long.
Lately, though, Bernanke seems to have become reticent in making the case for the Fed's ongoing emergency measures. Today he was less forceful than his right-hand woman. The strongest language he could muster in his prepared remarks was this: "As always, the Federal Reserve remains prepared to take action as needed to protect the U.S. financial system and economy in the event that financial stresses escalate."
Although the Fed is supposed to be insulated from politics, its actions have huge political implications. If the Fed juices the economy now, it will inevitably be seen by some Republicans as an attempt to boost the reelection prospects of President Barack Obama (even though Bernanke is a Republican who was appointed by President George W. Bush).
It's impossible to know whether Bernanke is demurring on further monetary stimulus in part to avoid the political fray.
Yellen, with her Boston speech, isn't the only Feddie warning against the risk of doing too little. As Bloomberg News' Joshua Zumbrun and Jeff Kearns write today: "Two regional Fed bank presidents who vote on policy this year, San Francisco's John Williams and Atlanta's Dennis Lockhart, said the Fed should be prepared to take action if the economy deteriorates further."
As a student of the Great Depression, Bernanke knows how bad a downward spiral can get. As a former professor, he should know the importance of articulating that message to his audience in the clearest way possible.
Before it's here, it's on the Bloomberg Terminal.
LEARN MORE