business
Fancy Swedish Helmets Coming to a Ski Slope Near You
By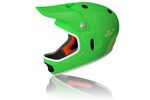 Outdoor sporting goods maker Black Diamond announced today that it is buying Swedish helmet company POC for $43.5 million, to be paid in Swedish kronor, and about 460,000 shares of common stock. The price does not include $12.5 million in performance incentives for POC's management. With the deal, POC becomes the third brand under the Black Diamond umbrella. The company's namesake brand makes mountain gear ranging from crampons to ski boots to hiking poles. Gregory Mountain Products, which shares a campus with Black Diamond on the east bench of Utah's Wasatch Range in Salt Lake City, specializes in backpacks. The two combined for $146 million in sales in 2011. POC, whose offices will remain in Stockholm, makes helmets and other protective gear for skiers and cyclists. Black Diamond Chief Executive Officer Peter Metcalf, who will continue to run the company, says privately held POC had sales of $22.5 million last year, up 35 percent from a year earlier.
The deal marks the latest stage in the evolution of a company that traces its roots to Yvon Chouinard's anvil and hammer in 1957. Chouinard, best known as the founder of clothing maker Patagonia, first went into business making pitons, carabiners, and picks for fellow climbers in Yosemite National Park. The clothing line grew out of a few rugby shirts he imported from England in 1970. His first venture, Chouinard Equipment, went bankrupt in 1989 after becoming a target for liability suits. Metcalf and other former Chouinard employees founded Black Diamond from its assets. Two years ago, private equity investors Warren Kanders and Robert Schiller merged Black Diamond with Gregory and took the combined entity public.
Black Diamond decided to pursue POC, says Metcalf, for economies of scale, access to new markets, shared intellectual property, and the "very clean, aesthetically pleasing, industrial design look" of its products. "POC is substantially stronger in Europe than it is in North America," he says. "We are strong in Europe but not nearly as strong as we are in North America."
As with the other two Black Diamond brands, POC will develop and market its products in-house, while the parent company will handle manufacturing, shipping, and other back-office functions. Metcalf says he aims to offer goods for use in every season and for just about every trip up or down a mountain. "Our customers are always getting outside. If there is no powder, then they are on ice. And if there is no ice, they are on granite, red-rock, or dry mountain trails."
Surveys by the Outdoor Foundation suggest that participation in outdoor sports may have peaked—with declines among child participants and flat-lining among adults in the last five years. But enthusiasts are still spending. According to Leisure Trends Group, sales of outdoor products climbed 20 percent from 2009 to 2011, with the average retail price rising 8 percent. Leisure Trends retail analyst Elisabeth Stahura says consumers are willing to spend extra on products they are convinced will last. Metcalf sees POC customers fitting into this trend toward low-end luxury. They may be too spooked to buy "a car, or fancy Armani outfit, or Bogner ski suit," he says, but they are ready to "drop 200 bucks for a helmet or 90 bucks for a pair of goggles."
(
Corrects sales figure in first paragraph.
)
Before it's here, it's on the Bloomberg Terminal.
LEARN MORE