pursuits
A Rebel Spirit's Confederate Motorcycles
A New Orleans litigator left his practice to found an upscale motorcycle company
Damon Tabor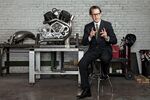 After 13 years arguing cases as a New Orleans trial lawyer, Matt Chambers, now 57, felt like the courtroom was closing in on him. "I was devolving, becoming the man in a box," he says. "I wasn't doing something that someone else couldn't do." So in 1994, using seed money from a settlement won in a police brutality case, Chambers set up Confederate Motorcycles' first factory in Baton Rouge. "When I was a little kid, I read a cool book about motorcycle entrepreneurship," he says. "I fell in love with those guys." Two years later he delivered his first bike. By 2001 he had sold 500, at more than $50,000 each.
It's been far from an easy ride. In 2001, Confederate filed for bankruptcy. In 2005, Hurricane Katrina destroyed its second factory, an 8,000-square-foot warehouse. Three years later, after Chambers had returned to Baton Rouge and signed a deal with luxury retailer Neiman Marcus to sell the Fighter, an extravagantly designed $110,000 bike he describes as "extroverted," the economy crashed. "It wasn't the time to be saying, 'Look at my new Rolls-Royce,'" he says.
Since then, Confederate has roared back. Its annual revenue has more than tripled. Its client list is studded with celebrities including Bruce Springsteen and Brad Pitt, and it recently began filling orders on the third generation of the Hellcat, a stripped-down, more powerful version of its first motorcycle.
Despite the challenges, Chambers never considered a return to law. "All I could think about was how to make the bikes better," he says. "Everything worked out the way it was supposed to. It didn't always feel that way—but it was."
 
MATT CHAMBERS'S BEST ADVICE
 
1. Be a Rebel
That's been our guiding principle. While there may have been a million loose ends, I knew I could put this together. The fierce entrepreneur is willing to trade off some security for freedom.
 
2. Product First, Money Second
Having too much money is just as bad as not enough, and American design is run by accountants. I didn't go after any money until I had everything frozen on that Hellcat. I wanted the design to be undiluted.
Before it's here, it's on the Bloomberg Terminal.
LEARN MORE