Restless, Awaiting Politicians with News
by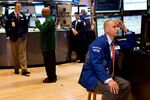 German stocks dropped to a five-month low, while European shares rose after four days of declines. The Stoxx 600 (SXXP) added 0.3 percent at noon in London. The euro fell to $1.2441 from $1.2540 earlier today.
–Jeff Black, Euro Manufacturing, Services Shrink As Crisis Deepens, Bloomberg News, 5 Jun 2012 7:16 am
No News is News.
This is one of the hardest things to understand.
We are all addicted to the 25/8 financial news cycle. Quiet matters, and the past 48 hours has been "dropped" and "rose."
Fear not. Market participants rest, but you knew that. They pause, awaiting News. The vigilantes churn restless, awaiting politicians with News. Discuss.
Before it's here, it's on the Bloomberg Terminal.
LEARN MORE