Office Upgrade: Silk Putting Green
by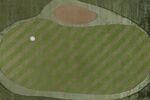 What it is: a putting-green rug made of silk and wool
Cost: $18,500
Nothing identifies you as a stereotypical movie villain better than practicing your putting in the corner office. If you don't mind the characterization, it's time to trade in that paper cup you were using for this lavish, $18,500 silk rug that sets a new bar for golf-loving executives. The new, six-by-nine-foot rug from Illulian in Milan is made of wool and silk and has a knot density of 180,000 knots per square meter. Unlike some artificial turf, it's soft enough to walk on barefoot.
According to Marlie Massena-Pattillo, a spokesperson at New York importer and distributor Resource Furniture, "the rug actually putts just like a real green." (A hole is even cut out.) And it's supple enough to drape over objects if you want to get creative and add challenging slopes.
The rug is also available in wool, for $13,500, and in wool and silk at 86,000 knots per square meter, for $8,000.
Before it's here, it's on the Bloomberg Terminal.
LEARN MORE