Google Flexes Its Mapping Muscle
By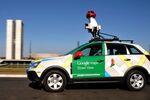 Years ago, before the dawn of the Web, men relied on their wits, map-folding skills, and stubborn inability to ask for directions to navigate a complex world. Today we turn to navigational systems on our phones and in our cars, which speak to us in a gentle, slightly foreign-sounding female voice. Frankly, it's totally emasculating.
That old street map is likely to stay in the glove compartment for good. These digital mapping systems, despite their predilection to fail precisely when you are late for a meeting, have become an increasingly important battleground among technology giants that want to conquer the next wave of mobile computing. Apple, which currently relies on Google's mapping systems for its iPhone and iPad, is reportedly stripping out its rival's services in favor of making its own maps the default on its mobile devices. Apple is likely to discuss its next moves in this field next week at its World Wide Developer's Conference.
Google isn't taking any of this quietly. The company invited journalists to its San Francisco offices on Wednesday to review its investment in mapping services. Google trumpeted the depth and breadth of these products, saying that Google Maps has one billion monthly active users. "As we were trying to create a map of the world, we created a map for the world," said Brian McClendon, vice president of engineering at Google Maps.
The company made several announcements: Google Maps will now be available offline on Android phones, so you don't need a cellular connection to save yourself from getting lost. Users can click on a portion of a city and download it to their phone before they head out into the world. The feature isn't yet available for Maps on iOS devices, though McClendon promised it will be coming. Google will keep improving its products for Apple devices, even if owners of those devices have to do a little more work to find them.
The company also announced a coming 3D upgrade to Google Earth: In place of the spare 3D images of the past, Google is upgrading to a crisp new view that "really does create the illusion that you are flying over the city, almost as if you were in your own personal helicopter," said Peter Birch, product manager for Google Earth. The company has a fleet of airplanes, owned and operated by contractors, which fly in grid-like patterns over high-density areas, taking photos of the underlying cities at varying angles. Google uses technology that extrapolates all those images into crisply rendered 3D models. No word on whether the planes sniff wireless networks as they pass.
Google's event Wednesday was all about its investment and focus. The company is flying airplanes, putting Street View cameras on snowmobiles and backpacks, and pushing into less-developed countries in its effort to map the world. Apple clearly has the money to match that, but it may not have the passion or the interest. At least with these two butting heads, we won't have to stop to ask for directions anymore.
Before it's here, it's on the Bloomberg Terminal.
LEARN MORE