Salesforce's Buddy Buy Shows Startup Demand
by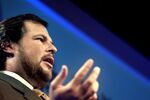 Salesforce.com's agreement to buy Buddy Media yesterday marks the latest example of the business software company's appetite for startups.
Salesforce agreed to spend $745 million for Buddy Media, its biggest purchase—and more than double the $326 million spent on social-media marketing tool Radian6, its next-most expensive. Salesforce has bought 20 companies since 2006 as it bets, via partnerships and acquisitions, on startup technology before the new companies have the chance to be tested in public markets."M&A is the new R&D," says Sean Whiteley, a senior vice president at Salesforce, who has worked on several of its acquisitions. "The startups are small, they are fast-moving, they are focused on one problem, and they're going to solve that problem very well."
Salesforce, led by its founder, Marc Benioff, has a higher tolerance for risk in new technology than competitors, including Oracle (ORCL) and SAP, says Ed Maguire, an analyst with Credit Agricole Securities USA. Benioff, who has never bought a public company, may be avoiding high valuations and bidder competition for later-stage software-as-a-service companies, which are scarce in the public market, he says. "Marc's view is that he's a pretty cutting-edge guy and they don't have to wait to see whose technology wins," Maguire says. "Oracle and SAP are paying a lot more for the same revenues than they would have had to in the past or if they had acquired some of these companies early on."
The amount spent on enterprise-software-company takeovers was $17.4 billion in 2011, compared with $715.5 million in 2009, according to data compiled by Bloomberg. The valuations for software-as-a-service companies can be as high as 10 times revenue, indicating an urgency for enterprise software companies to offer innovative products faster than they can develop them internally, says Paul Hamerman, a business applications analyst with Forrester Research.
In more than 60 enterprise-software takeovers since 2002, the median multiple buyers paid was about 16 times earnings before interest, taxes, depreciation, and amortization, according to data compiled by Bloomberg. That compares with the 106 times trailing 12-month Ebitda that SAP offered in a $4.3 billion bid for Ariba in May. Oracle offered 68 times Ebitda in a $1.5 billion bid for RightNow Technologies in October. "They're looking for products that can take them into a leading position in the market very quickly," Hamerman says. "The businesses they acquire are usually established in having some market presence and customers already, not so much startups."
Deborah Hellinger, a spokeswoman for Oracle, and Jim Dever, a spokesman for SAP, declined to comment. Oracle considered buying Buddy Media before opting to acquire its peer Vitrue, Chief Executive Officer Larry Ellison said last week. Salesforce's acquisitions are focused on technologies that can boost its product lines. The San Francisco-based company keeps track of the startups that are popular with its customers through the Salesforce platform. (More than a thousand entrepreneurs have built applications for Salesforce's system.) Buddy Media's social-marketing tools have been integrated. Marketo, Eloqua, and CloudApps have built on the platform, says Mike Rosenbaum, a senior vice president of the company's AppExchange and platform operations.
Salesforce also keeps track of applications on other marketplaces. Several months before acquiring Manymoon in 2011, Whiteley says he interviewed customers and partners, including Google, and watched the social-task-managing application maker retain a top spot in Google's marketplace. Only after that did he call the CEO for a meeting, he said. "We'd only been in business two years," says Amit Kulkarni, 37, whose tool became Salesforce's Do.com. "We never really thought we'd be acquired that soon."
Both Kulkarni and Mike Lazerow, CEO of Buddy Media, said they were charmed by a company at which the founder remains in place. Kulkarni says he wanted freedom and was given an office separate from headquarters, while Lazerow says Benioff "sounded like he'd been in the market 10 years" when explaining social-enterprise tools. "I chose Salesforce for a reason, and a big part of that reason is it is not those other companies," Lazerow says. "It has software that is easy to use and works—led by a leader in the field."
Before it's here, it's on the Bloomberg Terminal.
LEARN MORE