Facebook Stock: From Trophy Property to Fixer-Upper
Tom McNichol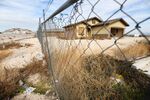 The signs appeared next to a six-lot subdivision in Silicon Valley shortly before Facebook's IPO on May 18. Beside a "Lots Available" sign on the property in the tony enclave of Los Altos Hills were two smaller A-frame signs brashly proclaiming, "FACEBOOK WELCOME. Will Consider Stock in Trade."
A few weeks later, the signs are still up, but the proposed deal, not unlike Facebook's stock price, is looking like a bust. Facebook shares tumbled Tuesday to a new low of $25.87, down 32 percent from the IPO's $38 opening price.
"I thought it was a clever idea, but of course the stock backfired," says Pam Allison, a broker for Forbes Group Realty, which is handling the property. "I wish I could tell you that a bunch of Facebook people came by and bought the lots, but I can't."
Allison and the owner of the vacant lots figured that the expected surge in Facebook's share price would be a natural deal-sweetener. After all, who better than a few fresh-faced owners of soaring Facebook stock to purchase property in the subdivision known as The Preserve on Deer Creek, where the lots start at $2.4 million and go up to $2.7 million?
But the Facebook flop seems to have scuttled any hope of a deal involving a stock swap, at least for now. An open house last weekend attracted dozens of lookers, and at least two serious potential buyers, but no one's mentioned using Facebook shares as part of the deal.
Allison says it's unlikely that very many young Facebook employees would be interested in buying a vacant lot anyway. Most of the hot real estate action involving Facebook workers these days is for apartments in downtown Palo Alto and Menlo Park, close to the company's headquarters. In those towns, even dinky, 400-square-foot studio apartments are currently renting for $2,000 or more. And the landlords are definitely asking for cash—not stock.
So would Allison still consider a trade? She takes a deep breath and ponders the question for a moment, the kind of second thought a lot of people seem to be having about social media valuations. "You know, it would really depend on the offer and the stock value at the time," she says finally. "I obviously have to protect the seller."
Before it's here, it's on the Bloomberg Terminal.
LEARN MORE