Captain Morgan's Search for the Real Morgan's Brand Treasure
Teddy Wayne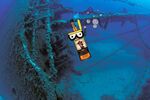 Next month, a team of marine archaeologists sponsored by Captain Morgan, the rum maker owned by London-based beverage conglomerate Diageo, will begin its first thorough excavation of a shipwreck located near the Lajas Reef off the coast of Panama. They believe that the wrecked hull and its accompanying cargo belong to a fleet commanded in 1671 by the ruthless British buccaneer Admiral Henry Morgan—yes, the rum's eponymous captain.
Longstanding brands often use their origin stories in ad campaigns as a way of building a greater sense of history and authenticity. Products focusing on craftsmanship and premium quality tend to rely on this strategy—examples include Guinness's proud reminders of its 253-year lineage, Bushmills's "Since Way Back" ads, or Chevrolet's Americana-soaked "Welcome to Bridgeville" campaign. Even fast-food chain Wendy's, a youthful enterprise by comparison, has gotten into the retro game, having featured its namesake Melinda Lou "Wendy" Morse, the founder's daughter, in commercials since 2010. More recently it launched a reboot of its famous "Where's the Beef?" commercials from the 1980s.
Now Captain Morgan is digging deep into its past. In May 2011, the company launched a marketing campaign focusing on the real Henry Morgan, a 17th century pirate who ranks among the most notorious of all time. According to Tom Herbst, brand director for Captain Morgan USA, the goal was "to increase the authenticity and masculinity of the brand." Around the same time, by coincidence, they heard about archaeological professor Frederick "Fritz" Hanselmann, chief underwater archaeologist and dive training officer with the River Systems Institute/Aquarena Center at Texas State University. On the bottom of the sea, Hanselmann had recently uncovered some cannon he believes belonged to Henry Morgan.
"[Hanselmann] is kind of like a modern-day Indiana Jones—a good-looking, young guy who by day is a nerdy archaeological professor and in his spare time is a world adventurer," says Herbst. The brand decided to sponsor Hanselmann on a dive to Panama. In July 2011, he took part in a preliminary excavation, during which he uncovered a 52-by-22-foot piece of a ship, along with cargo boxes and chests, booty he believes to be from Morgan's flagship, Satisfaction.
The sponsorship was a no-brainer from Captain Morgan's perspective. The company won't reveal the costs, but "the amount of equity and exposure" to be derived from it is well worth the outlay, Herbst says. The dive will be featured prominently in future marketing plans, although the booty will remain the property of the Panamanian government and Captain Morgan is making an undisclosed charitable donation to the conservation laboratory at Patronato Panamá Viejo (Old Panama Trust), a nongovernmental organization that works together with Panama's National Institute of Culture to investigate, preserve, and manage the ruins of the original Panama City.
"We're at a big advantage in our space because we don't have to make up a story about who this brand is about—he was a real guy," he continues. "Telling that story burnishes the image of the brand. We've literally uncovered buried brand treasure here. As a marketer, you make this stuff up at night—'hey, what if we found his actual boat?'—and we found his actual boat."
There is also, perhaps, a metaphorical quality to the expedition. "The rum and fun nights out are a search for buried treasure," Herbst says. "You get together with your crew and embark on the night and never know what you're going to find, and on the best nights you uncover those hidden secrets and gems that make stories that define you and your friends for the rest of your life."
Before it's here, it's on the Bloomberg Terminal.
LEARN MORE