Box Mimics the Consumer Web to Challenge IBM in the Cloud
by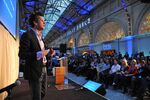 Aaron Levie created Box, a startup that sells online data storage to companies such as DirecTV and Procter & Gamble, mainly with consumers in mind. He ordered up a website that would be easy for customers to navigate. Levie gives away Box's basic product for free and the company's Los Altos, Calif., headquarters even boasts orange hammocks and a giant yellow slide.
Startups across Silicon Valley that cater to businesses are adopting features pioneered by consumer-focused Web peers such as Facebook. These companies are taking advantage of the low cost of delivering products over the Web and benefiting from a surge in venture funding for enterprise software—which jumped 74 percent, to $3.71 billion, in the two years through 2011, according to data from the National Venture Capital Association.
"It's a real shift," says Kevin Spain, a general partner at venture capital firm Emergence Capital Partners, which was pitched on twice as many enterprise deal opportunities last year as a year earlier. "We are seeing a greater and greater number of entrepreneurs walking into our office, thinking of creating an enterprise business—often those who have already created something for consumers."
Now that Facebook, Zynga, and other popular social media companies aimed at consumers have gone public, venture capitalists are devoting more dollars to business-focused startups. Consumer software, media, and entertainment companies that craft social-media tools and iPhone applications attracted only $2.39 billion in funding last year, according to data compiled by the NVCA.
Large companies such as Dell, Oracle, and IBM that sell information technology are also snapping up nimbler startups, sometimes before they reach an initial public offering, spending $17.4 billion on enterprise software acquisitions in 2011, compared with $715.5 million in 2009, data compiled by Bloomberg show. Salesforce.com, a provider of software over the Internet, said yesterday that it's buying Buddy Media, adding software that helps companies advertise via social media.
For companies such as Box, the business-building approach is often the same: Design simple software while outsourcing costly computing tasks to the cloud—and then induce people to try free or inexpensive versions of a product before getting their colleagues to use it more widely at work. Those tactics have helped Box attract $162 million in funding while vying against big, entrenched incumbents with varied offerings, Levie says. "The market that would be paying for this technology would be people that are normally spending with Oracle, IBM, and EMC," says Levie, 27. "We can use the huge network effects of the consumer world and mobile to reach their customers."
Business startups that go public are also outperforming consumer-Web companies. Software IPOs in the last three years, including Jive Software, which provides in-office collaboration and social-networking tools, have on average gained 21 percent from their offering date through June 1, while Internet IPOs, including Facebook and Zynga, have sputtered, losing less than one percent on average, according to data compiled by Bloomberg. "Now, when you're creating a business-focused company you're much more likely to have a successful outcome," Spain says.
To create a consumer-friendly vibe, some entrepreneurs hire developers with consumer backgrounds to make products visually appealing and easy to understand, using recommendation tools to grow within companies. Because the software is cloud-based—meaning it's run through remote servers and accessible over the Internet—startups have the flexibility to give away basic versions for free. Levie says his sales team almost never meets a company to start a deal unless several employees are already using the free version of the service.
David Sacks, chief executive officer of Yammer, a social network for businesses, says that's how employees choose the tools that make them most productive. At Supervalu, a grocery retail chain that includes Albertsons and Shop 'n Save, the chief information officer signed on for a premium version of Yammer after he saw employees were using it, Sacks says. That's how mobile applications spread on iPhones and gaming companies grow on Facebook. Yet compared with the way software is usually sold to businesses, it's revolutionary, says Sacks, whose software is used by more than 200,000 companies.
IBM, Hewlett-Packard, SAP, and other providers of enterprise tools maintain established sales channels and rely on clinching multiyear service contracts to help meet quarterly sales projections. "That's where these startups are winning business, when the big guys have a stock price to worry about," says John Vrionis, a managing director at Lightspeed Venture Partners. "People are used to apps on iPhones and Web applications and—in the working world, too—they just want to try stuff to see if it works."
IBM has been acquiring, teaming with, and recommending some of the startups to its customers, rather than directly competing with every innovation, says Saul Berman, a consulting executive in IBM's Global Business Services unit. "The market is changing," he says, likening it to the shift forced on the music industry after the advent of peer-to-peer song sharing over the Internet. "We can help with the challenge of finding the right answer and integrating into a whole solution."
Pandora Media, which held its IPO in June 2011, has about 30 software-as-a-service providers, many of them newer companies like Box. Mohammed Alhaffar is vice president of information systems at 40/86 Advisors, which oversees $24 billion in fixed-income assets. He says he stays away from startups entirely.
Given its role in high-stakes money management, 40/86 Advisors "can't afford to be the beta tester or the early adopter of any technologies," he says. "We have very low tolerance for errors," Alhaffar says. "When the big, behemoth, tech companies come and pitch, we're much more comfortable with that."
Because the services are sometimes marketed directly to consumers, chief information officers might not hear about them until they show up on company credit-card statements, says John Landy, technology chief of IntraLinks, a business-content management company. "Some of our customers adjust their policies to shut down some of these new services" because of concerns over where the data resides and whether business information is secure, he says.
Levie says he spends a lot of time explaining how Box can run securely and improve how a business operates on the cloud. Delivering software over the Internet isn't new. Salesforce.com has been providing cloud-based services for 13 years and views the boom in enterprise startups as a sign that acceptance is becoming more widespread, says Mike Rosenbaum, a senior vice president at the company. Salesforce.com developed a strategy for dealing with Box and other new market entrants: It lets them develop on the Salesforce.com platform. "This has been gaining speed and now we're at a critical mass," Rosenbaum says. "It used to be just getting people to accept cloud—and now they have to accept mobile and now they have to accept social. Every single app in the enterprise portfolio is going to need to be reviewed in the next five years."
Box's second floor is populated with engineers formerly at such companies as Google and Yahoo!, working with what Levie calls a "hacker ethos" to update the product each week. On the third floor, former employees of Salesforce, Informatica, and Oracle are on the phone with corporate customers, explaining updates and making deals. "In the Valley, there's been this sort of dichotomy over whether you're a consumer company, capable of lots of change and disruption, or an enterprise company, stodgier and more conservative," Levie says. "There's totally a balance on all of this, and we just have a different mindset."
Before it's here, it's on the Bloomberg Terminal.
LEARN MORE