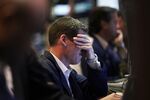 "One significant reason why there is such an extreme degree of bearishness, pessimism, bewildering confusion, and sheer terror [PDF] in the minds of brokers and investors alike right now, is that most people today have nothing in their own experience that they can relate to, which is similar to this market decline."
—Jim Fullerton, former chairman of the Capital Group, November 1974, in Guide to Market Recoveries, American Funds, 2011.
OK, so "the market" hasn't declined that much, but it feels like 1974—given the political economics of the fifth year of our collective crisis.
See this American Funds tour-de-force for rationalizing your inner courage.
"Uneasy Mood: As Economy Falters, Even the Affluent Are Fearful and Cautious," the Wall Street Journal, December 24, 1991.
Both Mario Gabelli and Michael Holland use the word patience to describe what is missing in investors today. But was the patience there in 1974?
"The Death of Equities," BusinessWeek, August 13, 1979.
I once stood in the late-nightDavos Piano Bar with a Nobel laureate and his wife. She turned to me and—in the quote of that particular Davos—said, "Tom, they're just bewildered."
Get over it. Get out from under the desk. Courage. It's another place, time, and moment of bewildering confusion. Discuss.
Before it's here, it's on the Bloomberg Terminal.
LEARN MORE