B-School Twitter Roundup
Alison Damast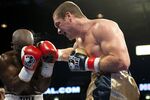 This week's Twitter roundup of happenings in the business school world includes a business school graduate who put aside his finance degree for the boxing ring, tips on how to jump-start your full-time job search over the summer, and an undergraduate business class that worked with the NFL on a marketing campaign.
Cynthia Billington, associate director of MBA Career Education and Advising at Texas A&M University's Mays Business School, shares tips on how to kick-start a full-time job search during an internship (@maybusiness, 5/29).
Undergraduate business students from the University of Pittsburgh's College of Business Administration work with the National Football League and the Pittsburgh Steelers on a marketing campaign aimed at reducing childhood obesity (@katzpittbiz, 5/29).
Deirdre Woods, Wharton's departing associate dean and chief information officer, reflects on how information technology has changed since she first assumed the post 25 years ago (@wharton, 5/30).
Mike Lee, a professional boxer and a 2009 graduate of the University of Notre Dame's Mendoza College of Business will fight on June 8 in a boxing match to be broadcast on ESPN (@NDBusiness, 5/30).
Devin McIntire, an MBA student at the University of Michigan's Ross School of Business, has started a grass roots campaign to raise money for his venture, Real Good Food, a new, Web-based food exchange aimed at home cooks, gardeners, and local food artisans (@MichiganRoss, 5/30).
Robert Borham, a weekend MBA student at Duke University's Fuqua School of Business, writes about his experience with the job hunt as he makes a career transition (@DukefFuqua, 5/31).
Students from the Thunderbird School of Global Management who are working in China, Vietnam, and Kenya this summer blog about their professional experiences in emerging markets (@Thunderbird, 5/31).
Daniel Spitzer and Justin Finnegan, two Stanford Graduate School of Business MBA alums, start Bhutan's first foreign-owned business, helping farmers make a profit from hazelnuts (@stanfordbiz, 5/31).
The University of Chicago Booth School of Business forms a partnership with RetailNext, a company that collects in-store analytics, to examine shopping patterns and purchasing behavior at retail stores (@BoothThinking, 5/31).
Ana-Laura Diaz, an online MBA student at the University of North Carolina's Kenan-Flagler Business School, blogs about her experience using the school's 2NC online platform for classes (@MBAatUNC, 5/31).
Join the discussion on the Bloomberg Businessweek Business School Forum, visit us on Facebook, and follow @BWbschools on Twitter.
Before it's here, it's on the Bloomberg Terminal.
LEARN MORE