The World Bank's New Weapon Against Bribery: Shame
By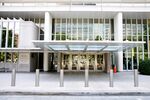 The World Bank lends around $72 billion each year to some of the world's poorest countries. A lot of it ends up getting stolen by corrupt officials, greedy contractors, and organized crime networks. The bank estimates that $20 billion to $40 billion is squandered each year by developing countries.
Now it's trying to do something about it. For the first time, the World Bank is publishing the deliberations of its internal body that decides whether to stop doing business with companies it says engage in corruption. Since 1999, the bank's Sanctions Board has punished, and at times banished, more than 530 firms and individuals. Until now, the bank has kept the reasons why they were kicked out under wraps.
"The World Bank Group takes a hard line against corruption, and we believe that greater transparency must be part of that effort," World Bank Managing Director Sri Mulyani Indrawati said in a statement announcing the decision. "By publishing Sanctions Board decisions, we are making all parties involved in the sanctions process more accountable. This move should deepen the deterrent effect of debarments and enhance the educational value of the Sanctions Board's findings."
Looking through the seven decisions published this month, you'll find the kind of fraud one would expect in an international aid scandal: Contractors that were to be awarded $50 million to develop infrastructure in South Sudan in 2005 were caught in an alleged attempt to steal the money from the World Bank. A company that won a $4.9 million contract to sell pharmaceuticals in an anti-tuberculosis campaign was, the bank said, found to have forged the performance reviews used to get the business.
The bank's decision to publish information about companies is a good move, says Arvind Ganesan, director of Human Rights Watch's business and human rights division, but it overlooks a gaping corruption problem: money stolen by governments that receive huge loans from the World Bank. The bank, says Ganesan, isn't aggressive when it comes to ensuring corrupt governments and military regimes don't misuse the funds.
Ganesan says that in 2010, the head of the World Bank in Angola told him the bank saw no evidence of corruption there, even though Angola consistently ranks in the bottom 25 of 180 countries listed in Transparency International's Corruption Perceptions Index and is currently on the hook to the International Monetary Fund for $32 billion that has gone missing from the government's coffers.
Today, Reuters reported that officials in South Sudan have made off with an estimated $4 billion in public money. The country is less than a year old. Its president, Salva Kiir, is imploring members of his administration to come clean and return it. Since South Sudan seceded from Sudan last year, Kiir's regime has received about half a billion dollars from the Word Bank's Multi-Donor Trust Fund, whose main backers are the U.K., Norway, and the U.S. It'll take a lot more than a public "shame on you" from the World Bank to get that money back.
Before it's here, it's on the Bloomberg Terminal.
LEARN MORE