business
The Latest Domain-Name Gold Rush
By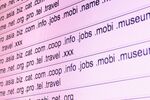 Registering a common business name as a domain name that ends in .com will often start in the thousands of dollars. That's because almost all the combinations that hold commercial potential have already been registered. If the owners are making money from them, they'll be reluctant to sell and they know they can command high prices if they do.
A new initiative dubbed the "New Generic Top-Level Domains" and organized by ICANN—the nonprofit that has managed Internet names and addresses since 1998—could add more than 1,000 extensions to the roughly two dozen familiar extensions in use now. New extensions are likely to be established in myriad categories: industry terms such as .bank or .hotel; existing brands such as .apple or .bmw; geographic monikors such as .nyc and .london; and new general terms such as .web. The expansion could mean that the owner of a smoothie shop in Miami who couldn't obtain or afford the domain name "miamismoothieshop.com" could register a different name, for example, "smoothieshop.miami" for less.
The expansion is prompting a swarm of activity by individuals and businesses applying to operate registries for top-level domain names and make money wholesaling them. Theo Hnarakis, chief executive officer of Melbourne IT, calls it the biggest change to the Internet since .com was released 27 years ago. His Digital Brand Services division, based in Santa Clara, Calif., has applied for 146 domain extensions for clients, including large pharmaceutical and media brands. "The Internet's about to expand in a tenfold way and whether you're a small business or a big business, you need to start preparing yourself," he says.
ICANN has received more than 1,900 applications. On June 13, it will release information on who has applied for what extensions. Then it will hold a six-month "review and contention" period in which the new applications can be challenged, with batches of new extensions set to go into use in 2013. "If you're Major League Baseball and you haven't applied for .mlb but someone else has, this gives you the opportunity to object and ensure that this is not going to infringe your rights," Hnarakis explains.
Commercial builder George Minardos, president and founder of Los Angeles-based Minardos Group, says he has spent $1.2 million applying for .build, .construction, and .expert. The money covered $185,000 in application fees; legal, accounting, and marketing expenses; and preparation of the 500-page applications he submitted to ICANN. The application window, which ran from January through May, was "one of the most rigorous processes I've ever been through, and I've dealt with government RFPs for physical projects," Minardos says. "This makes that pale in comparison. You have to prove your viability to run a piece of the Internet."
If he succeeds, Minardos believes, the money and effort will pay off. He estimates that owning domain registries for .build, .construction, and .expert could each yield up to $7 million yearly for his company, which currently has annual revenue of $50 million. If his applications are approved, website addresses using those extensions will be retailed through companies such as GoDaddy and Network Solutions and he will get a fee for each domain sold, as well as renewals.
Place names could be attractive for companies with regional focus. "If you're searching online for a gardener and Jim's Mowing comes up, there's no way now of telling where that business is," Hnarakis says. "But if jimsmowing.nyc comes up, the customer knows right away that your business is a relevant option."
Similar benefits could accrue to small companies in specific industries, Minardos notes: "From a marketing perspective, having MinardosGroup.build immediately describes what my company does. Also, most construction companies have the word construction in their name. This would allow them to get rid of the .com and instead of being XYZConstruction.com, they could move to XYZ.construction."
Existing domain name registry Neustar, the registry behind .us, is increasing its marketing to small businesses ahead of the expansion. "We thought: With what's happening with ICANN, this would be a good time to remind people that while there's all these alternatives out there, the best is .us," says Alex Berry, a senior vice president at the company.
Neustar's top-level domain is one of more than 200 country codes, such as .uk and .aus, in existence for many years and used widely overseas. But .us has not caught on as strongly in the U.S., where .com has been the default. Still, there is an existing business community at .us, and the top-level domain appeals particularly to patriotic small business owners, Berry says. "We figure that our target market is Middle America, which is underserved and underutilized" on the Internet. "We have looked at 5 million men and women in the Midwest and South who are business owners that share an American philosophy. We think we can educate them and help propel their business to the next level," Berry says.
Given the interest surrounding the expansion, Minardos says he was surprised when several massive construction companies he approached about teaming up on the applications declined. He won't know until June 13 if anyone else has applied for the top-level domains he's aiming for, but says he has had no indication he has competitors. "You would think that these large companies would seize this as a huge opportunity, but most of the ones I approached just looked at it as a threat and worried about protecting their name and trademark," he says. "We're watching the birth of the expansion of the Internet; I find that really exciting. But it did not get looked at by many companies that way."
Before it's here, it's on the Bloomberg Terminal.
LEARN MORE