Falling Oil Prices Are No Mystery
By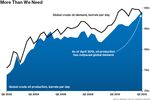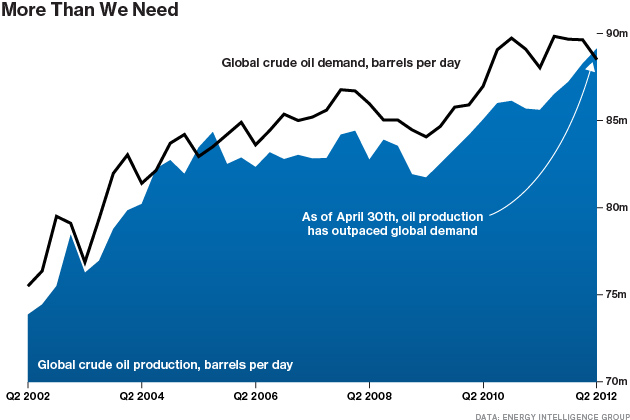 Oil prices have fallen sharply in the past two months, with Brent crude sinking to $97 a barrel and West Texas Intermediate hitting $83. The explanation is simple: Since March, the world has been producing more oil than it's consuming, according to data gathered by the Energy Intelligence Group. Global oil consumption has been declining since the end of 2011, falling to 88.5 million barrels per day at the end of April, from 90.4 million barrels per day in late December 2011. At the same time, world oil production has risen steadily for more than a year, driven by new finds and drilling techniques in North America and a 10 percent increase in production from OPEC during the past 12 months. The last time supply outstripped demand was in 2006.
The U.S. is now sitting on more oil supplies than it has since 1990. And yet our demand for it is at close to a 15-year low—a result of economic weakness and increased energy efficiency. "The amount of oil it takes to move the economy is declining," says Fadel Gheit, an energy analyst at Oppenheimer.
The price declines have coincided with a steep selloff in oil futures contracts over the last two months. Speculators cut their net-long positions—bets that the price will rise—to the equivalent of 136 million barrels of oil, the lowest level since September 2010, according to the Commodity Futures Trading Commission. This follows a huge speculative buying binge. Oil prices spiked from October through March—a six-month bull run fueled by speculative worry over an Iranian supply disruption.
With speculative money pouring out of the oil market, the price is closer to reflecting supply-demand fundamentals. And that means the world's two most traded oil contracts should continue to fall in price through the summer, analysts say. Religare Capital Markets forecasts that Brent crude, the benchmark for more than half the world's oil, will fall to $90 a barrel by September, and that West Texas Intermediate should fall to $80.
Since two-thirds of the price of gasoline is determined by the price of oil, that should continue to lower prices at the pump. At the end of May, the average price of a gallon of gasoline in the U.S. was $3.66, 12¢ lower than it was a year ago. That will provide some relief at the pump in time for the summer driving season. Whether that amounts to enough of an economic stimulus for consumers to help lift the economy is much less clear.