Europe: Skate Like Lidström
by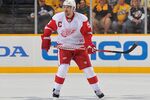 "At some point in time, it catches up to everyone, it diminishes their ability to perform some things you love and care about passionately. It comes to an end sooner than what you would have liked. The last few years, I waited until after the season was over to assess my ability to play another year. I need to let a few weeks go by to get a reading on my body's ability to recover from the grind of an NHL season. Sadly, this year it's painfully obvious to me that my strength and energy levels are not rebounding enough for me to continue to play. My drive and motivation are not where they need to be to play at this level. That's why I feel like it's time to retire.
—Nicklas Lidström in Bill Roose, Motivation, Drive Not There for Wings' Legend to Continue Career, DetroitRedWings.com, 31 May 2012, 5:06 p.m.
Avesta. Thank you, Avesta, Sweden, for your best and brightest. Mr. Lidström was the best, but critically, he was the brightest of bright at exerting the minimum force to generate maximum Detroit Red Wing benefit.
Uninformed, I will opine that he was, and is, and will forever be the most efficient player of hockey.
If Europe was ice hockey, European elites would have been put in the sin-bin months ago. (Major misconduct, not listening to the vigilantes.)
Chancellor Merkel would kill for as much euro-combined grace and durability as Lidström's 1,564 games played. Please Germany: For the love of God, back check! Berlusconi! Two-minute minor, Monti-destruction!
It's June, finally? Europe is in search, desperate search, of a solution. Perhaps the perfect solution can be found by emulating the eternal dignity of Lidström.
Courage Europe. Look North to Avesta. Crisis could come "to an end sooner than you would have liked."
The answer: Europe, get over the soap opera. Skate like Lidström. Discuss.
Before it's here, it's on the Bloomberg Terminal.
LEARN MORE