The Shaggy, Slobbery World of Pet-Friendly Offices
By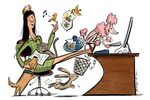 In an old building in New York's crowded but fashionable Soho neighborhood, a white miniature schnauzer named Dummy used to trot along the worn wood floors of The Onion's editorial office. The Onion is in the process of moving its New York staff to Chicago, so the satirical newspaper has been operating out of temporary quarters for the past few months. But before the upheaval, The Onion's writers worked in Soho. And Dummy was with them.
"She'd just run around the office from person to person. Sometimes I wouldn't see her for hours," says Dummy's owner, Carol Kolb, The Onion's former editor-in-chief, who's currently working on the Onion News Network. "She loves one of our writers, Joe Garden, partly because Joe is always eating. She'd just follow him around all day and I'd get a little jealous."
With scruffy dudes hovering over laptops, desks covered in goofy coffee mugs, and walls adorned with funny notes and posters, The Onion's joke factory sometimes felt more like a college dormitory than an office. But even in more traditional offices, the office pet—usually a dog—has become a staple figure.
A 2008 American Pet Products Association survey found that 17 percent of U.S. businesses allowed employees to bring their pets into the office. Autodesk, Google, and Amazon are all famous for allowing pets at work (although Google, a self-described "dog company," says no to cats). Zynga has a dog run in its offices, and Tumblr's office Pomeranian Tommy has—that's right—his own Tumblr.
As a pet owner, I'm amazed that so many places let people bring their pets to work. I have a dog, and while I personally think she's the second coming of Lassie (though her ability to rescue me from a mine shaft remains untested), I don't expect my entire office to spend eight to 10 hours a day with her. Where would she sit? What would she do? Would she try to squeeze between me and my computer the way she does when I'm working from home? And what would happen at lunchtime when she suddenly found herself surrounded by dozens of people eating delicious-smelling food? At home she can barely control herself when I eat a cracker.
"Having my cat around definitely decreases my work efficiency," says Marc Zollinger, a Spanish instructor at Willamette University who sometimes works at the Oregon Research Institute (ORI), where he brings his long-haired cat, Max, into work with him. "He likes being high on things so he'll climb on a filing cabinet or behind one of the desks. He also likes to be on my lap." If this sounds weird, you should probably know that Zollinger also takes Max on three-mile hikes. Suddenly, a cat on a file cabinet doesn't sound so odd.
The Oregon Research Institute is a haven for pet owners. It has a comprehensive list of guidelines—vaccine requirements, housebreaking rules, a strict "no biting" policy—but as long as those are followed, ORI allows a wide range of animals in the office. There are dogs, cats, fish—one guy reportedly even brought a python into work. "I think he worked in IT. He used to wear the python around his shoulders," says Sonja Yokum, a research associate at ORI who brings her dog Luka to work with her every day.
ORI is headquartered in Eugene, Ore., near a giant park where Yokum's dog plays during lunchtime. (The python, not so much.) But even in dense cities, pets can provide their workaholic owners with some relief. According to a recent study by researchers at Virginia Commonwealth University, office dogs lower employees' stress levels and increase job satisfaction.
"You know how everyone has jobs here where you work through your lunch break and are constantly going?" asks Meghan Peters, who works at Mashable in New York City. "The fact that I have to take [my dog Holly] out in the middle of the day is nice. It gives me a chance to get outside and clear my head." Peters brings Holly to work with her every day—and a lot of Mashable employees follow suit. Sometimes there are as many as seven dogs in the website's office. "Our editor-in-chief has allergies," says Peters, "but as long as he doesn't pet them and keeps his office door closed he's usually OK."
Not all employees are as understanding. "When I first brought Dummy in, this editorial manager sent me an e-mail where he was like, 'You know, we have a small office and we really don't encourage people to bring their dogs to work,'" says The Onion's Kolb. "But I felt I had enough seniority at the company so I just sort of ignored it. I promised I'd keep her in my office. Of course, that idea quickly went out the window. It's bad of me, I know."
Despite the manager's initial objections, Dummy not only remained at work but, over the three and a half years Kolb has owned her, grew to become a central figure in the Onion office. "You'll be at your desk and she'll walk by real fast and with purpose," says Kolb. "She looks like she's going to meetings."
Dummy has appeared on The Onion's website as well as a video on Onion News Network. When the staff worked around the clock on deadlines, Kolb sometimes brought her in to boost morale. "Our [Onion News Network] producer Liz would be so tired from working constantly for days. I'd bring Dummy into work and she'd look at me with big bags under her eyes and say, 'Thank you, I needed this.'"
Kolb will not be moving with The Onion to Chicago, which means Dummy's time as "Area Dog" is most likely over. She's worked at The Onion for over a decade and says she's not yet sure where she'll work next. "Hopefully they have a dog-friendly policy," she says. Not to mention allergy-free employees who eat a lot of snacks.
Before it's here, it's on the Bloomberg Terminal.
LEARN MORE