Office Upgrade: Variér Ergonomic Saddle Chair
by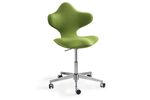 What it is: A chair specially designed to give your legs more freedom to move.
Cost: Starting at $1,095, depending on fabric and gas lift.
Norwegian chair maker Variér's new Active chair, launched in January, features a unique, saddle-shaped seat. Designed by Olav Eldøy and Atle Tveit, it is intended for workers who like to bend and stretch their legs.
"With the saddle seat, you can have a bigger angle in your hip" and "there is no pressure on the back of the thigh" to improve blood flow, says Eline Strøm-Gundersen, a spokesperson for Variér. Also, "it forces you to sit more upright. When you do that, and you're not slouching forward, it helps you use your whole lung capacity so you breathe better and you stay sharper for a longer period of time," she adds.
The Active chair is available in a range of wool textiles and leather.
Before it's here, it's on the Bloomberg Terminal.
LEARN MORE