It's Illegal for Monks to Sell Caskets In Louisiana
by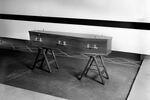 The monks just want to sell caskets. That's the simple plea of a relatively simple case, in which a Louisiana monastery—St. Joseph Abbey, about an hour outside New Orleans—is suing the Louisiana State Board of Embalmers and Funeral Directors for the right to sell their handmade wooden caskets. Only licensed funeral establishments can sell caskets in Louisiana, which means that St. Joseph's monks would have to hire a funeral director, install embalming equipment, and construct a funeral parlor even though they have no plans to embalm the deceased or perform actual funerals. "They would have to take an exam about the whole panoply of funeral directing," says Scott Bullock, an attorney with Institute for Justice, which is representing the monks. "It's like telling someone who sells shoes that they have to first become a podiatrist."
St. Joseph Abbey, founded in 1889 as part of the Order of Saint Benedict, has been producing caskets for as long as its monks can remember, but until recently, they were only used for the private burials of their own members. In the 1990s they built a few coffins for the funerals of local bishops and the Catholic community began to take notice. "People would come to our funerals and see them and ask if we could make one for a family member," says Abbot Justin Brown, "but we couldn't do it because we didn't have the wherewithal to construct them on a larger scale."
St. Joseph receives no money from the Catholic Church, and for a long time it funded the living costs of its 36 monks largely through timber taken from a pine forest that was part of the abbey's property. But the monastery is located right by Lake Pontchartrain and in 2005 Hurricane Katrina "destroyed about 60% of our forest," says Brown. St. Joseph had to come up with a replacement source of income—and quickly. The monks turned to what they did best: caskets. "We saw it as a way to provide a service for people who'd been asking for our caskets and also to bring in enough money to support our life here," says Brown. "Little did we know we'd be breaking the law."
The abbey launched Saint Joseph Woodworks in 2007 but received a cease-and-desist letter from the Louisiana Board of Embalmers and Funeral Directors before it had even sold its first casket. If the monks went against the ban, they faced thousands of dollars in fines and possible jail time. "I was quite surprised and a bit frightened, you know," says Brown. "We're not normally lawbreakers. We're usually pretty good citizens. That did upset me. But at the same time, I just thought this was very unfair."
Brown didn't realize it, but the American funeral industry has a long history of pursuing exploitative practices. In 1982, after a decade-long investigation into the funeral service industry, the Federal Trade Commission required all funeral directors to disclose and itemize their prices and services to help bereaved customers avoid unnecessary charges. Once the services were unbundled, says Bullock, "people realized the casket is really, really expensive. There are huge mark-ups compared to what you could buy retail." (The National Funeral Directors Association puts the average casket cost at close to $2,300, while Amazon.com offers some for under $200.)
An independent casket market quickly developed, cutting into funeral home profits, so some businesses started charging casket-handling fees. The FTC saw right through this, says Bullock, and prohibited casket-handling fees in 1994. That hasn't quashed the abuse; in April, the FTC announced it had conducted undercover reviews of 102 random funeral homes and found that 16 percent of them committed major violations, such as failing to disclose prices.
For most funeral businesses, services are more transparent than they used to be. These days, you can purchase a casket from Wal-Mart, Costco, or online (you can even make one yourself because there are no legal design standards or sanitary restrictions) and a funeral home will have to use it, free of charge, in the funeral it provides for you. Even in Louisiana.
"Louisiana consumers can buy caskets from anywhere else in the country, except from casket retailers in their own home state," says Bullock. When St. Joseph first learned of its unintentionally illegal business, it tried to work with state representatives to change the law, but the proposed bill died in committee. So the monks sued.
Bullock says that although laws against third party casket sales are still on the books in some states, only in Louisiana is the rule actually enforced. "We have monasteries in Indiana and Iowa that have casket businesses and it's legal there," says Brown. "Why isn't it legal in Louisiana?" Unfortunately, representatives of the Louisiana funeral board didn't return phone calls and could not be reached for comment.
In 2011, a U.S. District Court ruled in favor of the monks, but the funeral board appealed. Next week, the case will be argued again in federal court. Bullock and his clients remain confident they'll win again—so confident, in fact, that Saint Joseph Woodworks has been selling its handmade caskets the entire time. They fetch from about $1,500 to $2,000 and since last year's court ruling, the monastery has averaged about 12 sales a month.
Saint Joseph isn't seeking any financial compensation from the funeral board, just the right to run its business. Brown says that although the years of legal hassle have been a strain, he still feels that it's the monastery's calling to make the caskets. "Every so often, we get a card or a note from someone thanking us for the casket and explaining what it meant to their family," he says. "So yes, it's been worth what we're going through. We feel that this is the right thing to do."
Before it's here, it's on the Bloomberg Terminal.
LEARN MORE