Five Reasons Why the Jobs Engine Is Seizing Up
By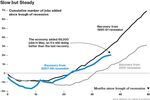 What went wrong? Why did the U.S. economy generate only 69,000 jobs in May, worse than the lowest estimate among 87 economists surveyed by Bloomberg?
Here are five theories, in descending order of plausibility.
FOREIGN WEAKNESS
Europe seems to be heading for an unavoidable train wreck, and now China's economy is slowing down. Both are bad news for U.S. exporters. Plus, there's a chance that the European crisis could also trigger a global financial crisis worse than the one in 2008-09 that led to the first worldwide recession of the post-World War II era. "It's pretty clear that this is a reaction to what's going on in the rest of the world," says Paul Ashworth, the chief U.S. economist at Capital Economics.
SEASONAL FACTORS
This theory comes in two varieties. One says that the weak growth in the spring is payback for strong growth in the winter in sectors such as construction and leisure, which were helped by a warm winter. "The weather is definitely part of the story," says IHS Global Insight Chief U.S. Economist Nigel Gault. Joseph LaVorgna, chief U.S. economist at Deutsche Bank Securities, doesn't buy the weather explanation but says the May number may have been artificially suppressed by incorrect seasonal adjustment by the Bureau of Labor Statistics. If that theory is correct, you'd expect May 2011 to have been weak as well. It was—just 54,000 jobs created.
THIS IS NORMAL
The chart accompanying this story shows that measured from the end of the recession, job growth in this recovery has been stronger than the job growth after the 2001 recession, and not much worse than the recovery from the 1990-91 recession. What's going on is the New Normal, says James Paulsen, chief investment strategist at Wells Capital Management. The only problem with this theory is that this recession is much deeper than the past two, so one might expect a snappier recovery. Paulsen says his research shows no evidence that deeper employment drops are followed by faster employment gains.
FISCAL CLIFF FEARS
Unless Congress and President Barack Obama act by Dec. 31, the U.S. economy will suffer a huge fiscal blow at the start of 2013. The Bush tax cuts are scheduled to expire in full, as are payroll-tax reductions. And automatic cuts in government spending are scheduled. Federal Reserve Bank of New York President William Dudley said May 30 that a failure to avert that shock could cause a recession. "I thought this was going to affect people's attitudes more later this year, but maybe companies have been focusing on that and worrying," says IHS Global Insight's Gault.
PRODUCTIVITY
The share of the nation's economy that goes to labor compensation is rattling around the lowest level since at least 1970, at 54.6 percent. Companies are trying to squeeze as much work as possible out of their existing staff. In recent months, there seemed to be some evidence that productivity gains had hit a ceiling, forcing companies to meet increased demand through hiring. But judging from the latest weak report, it could be that employers have gone back to scrimping on labor.
That's five. If there's a sixth, it might be that the bad news on jobs is itself bad for jobs. Says Deutsche Bank's LaVorgna: "To the extent that these numbers are generally disappointing to folks, that itself makes people more cautious. They read about it, they see it on TV. The weakness becomes self-perpetuating." So stop reading these dreary articles and go back to work.
Before it's here, it's on the Bloomberg Terminal.
LEARN MORE