Calatrava's Valencia Project Attracts the Ire of Spanish Politicians
A renowned architect is embroiled in a debate about spending in Valencia
By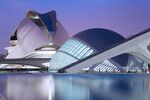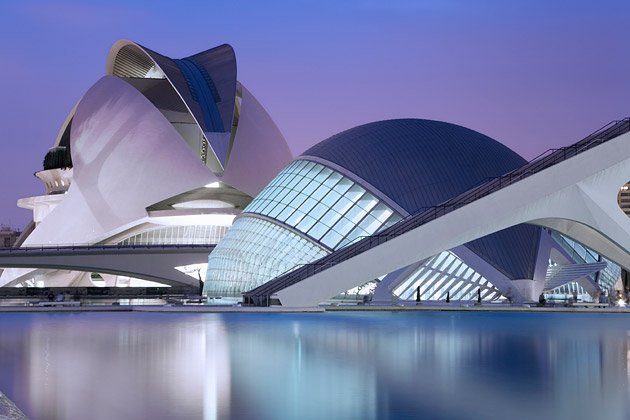 Valencia's City of Arts and Sciences, a cluster of futuristic buildings designed by native-son architect Santiago Calatrava, was an emblem of civic ambition during Spain's long economic boom. The complex, including an aquarium, museums, and opera house constructed over the past 15 years, was intended to help Spain's third-largest city become a world-class tourist destination.
Now the complex has become a symbol of profligate spending that has plunged Valencia into economic misery. After splashing out on everything from a yacht harbor to a theme park, the Valencia region is burdened with debt totaling 20 percent of its economy, a higher proportion than any Spanish region except Catalonia.
The regional government has cut spending so drastically that uncollected garbage is piling up in some Valencia neighborhoods and the city hall briefly had its power cut off because of unpaid bills. "We've never seen anything like this," says Vicent Ripoll, principal of a local elementary school that ran out of paper and other teaching materials after the government cut off funds. "This is due to the bad management of politicians," Ripoll fumes.
Valencia's sunny Mediterranean beaches and the free-market policies of its government—run for the past 17 years by Prime Minister Mariano Rajoy's Peoples Party—made the region an epicenter of the Spanish boom. It spent about €2.4 billion to host the America's Cup in 2007 while helping to finance such projects as a theme park that features replicas of the Minotaur's labyrinth and Egyptian pyramids.
No Valencia project, though, has aroused more ire than Calatrava's City of Arts and Sciences. Originally projected to cost €300 million (about $375 million), its price tag more than tripled to some €1.1 billion, according to estimates by opposition members of the regional parliament. "The buildings are like symbols of an era when the politicians thought we were rich," says Ignacio Blanco, a member of the opposition United Left party.
Critics have even set up a website targeting Calatrava, a Valencia-born architect who has achieved global fame with such works as the Milwaukee Art Museum and the planned new World Trade Center transportation hub but who has been known to exceed his budget. The website, www.calatravatelaclava.com, translates roughly as "Calatrava rips you off."
Although the Valencia government has not released details of construction costs, Blanco says his party has reviewed documents showing that Calatrava was paid at least €94 million for the complex, with his fees based on a percentage of the total costs. Because the architect's business is based in Switzerland, he has paid no Spanish taxes on his earnings, Blanco says. While describing the situation as "scandalous," Blanco says the fault lies not with Calatrava but with "politicians who wasted public budgets."
In a statement released to Bloomberg Businessweek by a representative of his office in New York, Calatrava said costs exceeded the original 300 million-euro estimate because local officials decided to expand the project significantly. He said the project had created 40,000 jobs, spurred other developments, and attracted millions of tourists. "The country has seen a handsome return on this investment," the statement said. "It is a shame that political parties of Spain are taking a world-renowned cultural center and trying to tarnish its name, simply for their own political gain."
Although it spent more than most, Valencia isn't the only Spanish region saddled with crippling debt. Regional governments were mainly responsible for Spain's budget slippage last year, missing their deficit targets by more than 100 percent. Says José Manuel Gonzalez-Paramo, a Spanish member of the European Central Bank Executive Board: Regional finances are "a black box that always yields bad surprises when you open it."