Bar Patrons Toast Facebook's Sinking Stock
By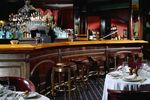 Facebook's share price, by publication time, had dropped about 25 percent from its original IPO price of $38. While this is painful news for Facebook investors, it is good news for the patrons of the Bull & Bear Steakhouse in New York's Waldorf-Astoria hotel. The bar, which is decked out with its own stock ticker, is offering a special discount on cocktails, all summer long, tied to Facebook stock's daily performance.
The discount requires a minimum 1 percent drop in share price and is capped at 5 percent. For example, a 1.25 percent drop in stock that day means a $1.25 discount on cocktails that evening. The promotion applies to cocktails only, which cost an average $14 to $18. (Ironically, customers will need to "Like" the Bull & Bear Facebook page to get the discount. They can also follow Bull & Bear on Twitter.)
Matt Zolbe, director of sales and marketing at the hotel, says the promotion is a way to reach younger customers through social media. He says the idea came when one of the hotel's banquet captains and a server were talking about Facebook and he learned that the captain had made arrangements to purchase stock, which Zolbe expected would drop. He wanted to take advantage of Facebook being a popular water cooler topic, especially among the bar's finance-world clientele.
At 12:30 p.m. today, the share price was down about 5 percent since the market opened. "We don't know what it will be when it closes, but it's looking to be a good day," Zolbe remarks.
And if the banquet captain wanted to drown his sorrows in discounted drinks? "He's not encouraged to be one of our regular bar patrons," says Zolbe.
Before it's here, it's on the Bloomberg Terminal.
LEARN MORE