B-School Highlights: June 1
Francesca Di Meglio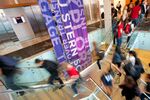 Some of the events and announcements from top business schools in the U.S. and around the world that made news in the past two weeks:
New York University's Stern School of Business announced on May 8 that it hired Jonathan Haidt, a psychology professor at the University of Virginia for 16 years, to join its faculty starting in the fall of 2012. The bestselling author of The Righteous Mind: Why Good People Are Divided by Politics and Religion (Pantheon, March 2012), Haidt will create a course at Stern called Ethical Systems Design.
As Ambassador Barbara McConnell Barrett takes over as interim president at the Thunderbird School of Global Management, new faces are joining the program. Robert J. Herbold, former chief operating officer of Microsoft, will be senior adviser to Barrett and visiting executive; Larry E. Penley, former dean of the Carey School of Business at Arizona State University, will be interim chief academic officer and provost; Joie Gregor, former vice chairman of executive search firm Heidrick & Struggles, will be senior adviser to Barrett and visiting executive; and U.S. Senator Jon Kyl (R-Ariz.) will be a guest lecturer, discussing public policy development and perceptions.
"Leading Your Small Business Through Its Lifecycle," a new executive education program at Harvard Business School, will run from June 24 to June 27. The program is designed for business owners or financial decision-makers of small private companies with sales of as much as $5 million without venture capital funding.
China Europe International Business School (CEIBS) and the Fletcher School of Law and Diplomacy at Tufts University will allow students to earn a Master of Arts in Law and Diplomacy from Fletcher and an MBA from CEIBS in two and half years. Students, who will be required to reach competency in at least two languages, will spend 12 months in residence at CEIBS in Shanghai and three semesters in residence at Fletcher in the outskirts of Boston.
Designed to prepare students for careers in commercial real estate markets, the new 18-month accelerated MBA program with a concentration in real estate at the University of Miami School of Business offers a curriculum that features two paid industry internships and courses on new urbanism at UM's School of Architecture. The May 22 announcement came on the heels of increased real estate offerings at the school, including a dual-degree program (Bachelor of Architecture and MBA), an MBA concentration in real estate, and an undergraduate real estate major.
The Johns Hopkins University Carey Business School named strategist and management consultant Bernard T. Ferrari its new dean on May 29. Succeeding Yash Gupta, who stepped down in 2011, Ferrari will officially begin his appointment on July 1.
Join the discussion on the Bloomberg Businessweek Business School Forum, visit us on Facebook, and follow @BWbschools on Twitter.
Before it's here, it's on the Bloomberg Terminal.
LEARN MORE