business
An Internship at 200 West Street?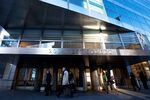 "There is enormous pressure out there, even in a market environment like this, for the best people," Cohn said today at a New York investor conference. "There's always a competitor or in some cases a client willing to hire our good people."
—Gary Cohn, president, Goldman Sachs Group, in Michael J. Moore, Goldman's Cohn Warns of Poaching Risks From Further Pay Cuts, Bloomberg News, 31 May 2012, 12:38 p.m.
There is the faintest echo from childhood.
Parents decades ahead of a technological progress that has created these two Americas. Parents screaming (were they?) about not just "education" but rather, a certain education; a modern and rigorous education that would protect from tangible, real-wage decline.
Mr. Cohn's "best people" took Engineering Calculus over Differentiation for Dummies. They braved the tag-team of Statistics and Econometrics over Bell Curve 101. They read Gordon Wood on America for beach reading.
May is over. June could not possibly be worse. (For Goldman Sachs, and you.)
Meanwhile, responsible parents are manufacturing "our good people." (Summer reading list, anyone? John Knowles?)
If Gary Cohn and the Goldmans of the world are evil, why are parents silently praying that their offspring will get an internship at 200 West Street? Discuss.
Before it's here, it's on the Bloomberg Terminal.
LEARN MORE