business
The New GMAT: Thanks, But No Thanks
Louis Lavelle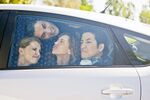 The future can be scary, especially if you're headed to B-school. And if you haven't taken the GMAT yet, the future can be downright terrifying. On June 2 the old GMAT will be consigned to the dustbin of history and replaced on June 5 (after a two-day blackout period) with a new version of the B-school entrance test. The new and improved exam replaces one of the existing writing sections with a new integrated reasoning section that apparently is giving test takers the night sweats.
There's been a mad rush on the part of students to register for the test before June 5. The Graduate Management Admission Council, which publishes the exam, isn't saying exactly how mad, but if you charted test registrations it would look a lot like a bell curve. "We expected volumes to go up in April and May, and they have," wrote GMAC spokesman Bob Ludwig in an e-mail. "Quite significantly."
What that means for test takers is that, according to test-prep companies, registering for the GMAT just got a lot more difficult, especially if you've waited until the last minute. To take the test before the big changeover, some students are driving an hour or two out of their way to less popular testing centers and taking the test mid-week rather than on the weekend.
Andrew Mitchell, director of pre-business programs at Kaplan Test Prep, says a surge in test registrations before substantive changes is not unusual. In a recent survey, 38 percent of Kaplan GMAT students said they were trying to beat the June 2 deadline and take the old test. Many of them hadn't even seen the new integrated reasoning questions yet—they were worried about the new section, sight unseen.
Test takers have now had several months to eyeball the new section using sample questions supplied by GMAC and test-prep materials. Mitchell says students equate the new integrated reasoning section's level of difficulty with that of the GMAT's data sufficiency questions—some of the test's toughest—which ask test takers to determine if the information supplied is enough to answer the question.
"A business school student is generally going to want to take the easier path if there's no disadvantage to doing so," Mitchell says. "Integrated reasoning is all about working with data. Quant data is displayed graphically, and that's intimidating to a lot of people. It makes sense that people would be apprehensive."
But it's not like prospective MBAs were without options. It's worth noting that the usual prescription for apprehension when it comes to the GMAT—hitting the books—was and is available for anyone contemplating the new test. Kaplan test-prep books that went on sale in January have material related to integrated reasoning, and integrated reasoning sections have been added to five of Kaplan's nine full-length practice tests.
At Veritas Prep, the number of website visitors using "integrated reasoning" as a search term has doubled every month since January. "We're definitely seeing a lot of traffic," says Brian Galvin, director of academic programs at Veritas. "It's an exponential increase in interest."
Starting in March for classes ending in April, Galvin says, Veritas gave individual instructors the option of incorporating integrated reasoning into the curriculum, but very few did. Students in most classes were aiming to take the test before June 2 and didn't want to waste time preparing for the new section. With D-day approaching, some Veritas courses—which take as long as six weeks—lost a handful of clients to GMAT "boot camps" that would help them prepare to take the old test in far less time, Galvin says.
Galvin, an instructor who scored in the 99th percentile on the GMAT, says applicants who overshot the June 2 deadline and need to take the new test shouldn't be worried. "There's not as much to worry about as people think," he says. "It is new and it's a little bit more involved, but it's still the GMAT. They're GMAT questions packaged a little differently. The lines of questioning are eerily similar."
Join the discussion on the Bloomberg Businessweek Business School Forum, visit us on Facebook, and follow @BWbschools on Twitter.
Before it's here, it's on the Bloomberg Terminal.
LEARN MORE