Run for President, Kill Your Career
Neglected voters back home show White House long shots the door
By and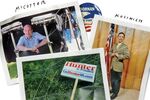 Representative Thaddeus McCotter is in a serious bind. Last year the five-term Michigan Republican, who's earned a certain oddball fame as a guitar-plucking guest on the late-night Fox News show Red Eye w/Greg Gutfeld, launched the longest of long-shot campaigns for the Republican presidential nomination—evidently believing his tiny cult following of insomniac conservatives would deliver him the White House. That didn't work out. McCotter couldn't muster the 1 percent support in national polls necessary to participate in the debates. He dropped out in September.
Instead, he decided to run for another term in Congress—only to discover that he and his staff had apparently neglected the elementary task of collecting enough signatures to get his name on the ballot. Michigan's secretary of state determined that he'd submitted only 244 of the necessary 2,000 valid signatures. Election officials found that hundreds of the documents the campaign turned in were duplications or had been crudely doctored, and are investigating what they called an "unprecedented level" of fraud. McCotter says he was sabotaged, or someone on his staff made a terrible mistake. Either way, hanging onto his seat won't be easy. On May 29 he announced he would be forced to run as a write-in candidate. Despite his troubles, McCotter doesn't regret running for president. "I wanted to make sure my message was out there for the public to consider," he says.
McCotter joins a small but notable club of congressmen whose improbable designs on the White House led to embarrassing career implosions. Failed presidential candidates Michele Bachmann and Ron Paul may have raised their public profiles and increased their stature with the folks back home; most of their peers haven't been so lucky.
In the 1996 election, the boisterous Republican Representative Robert "B-1 Bob" Dornan of California sought the GOP nomination and won fleeting fame by calling President Bill Clinton a "criminal" and "pathological liar" in a presidential debate. Voters in Orange County weren't impressed. Democrat Loretta Sanchez took advantage of his absence to campaign for Dornan's seat and won. He challenged her two years later and lost in a landslide. Today, he mainly haunts Fox News.
In 2006, GOP Representative Duncan Hunter of California, then the chairman of the powerful Armed Services Committee, announced he would retire from Congress to focus on running for president in 2008. Hunter won Ann Coulter's endorsement and little else. He, too, failed to qualify for the debates and dropped out, with no seat in Congress to return to. (Dornan and Hunter did not respond to interview requests.)
Gadfly candidacies are not solely the province of Republicans. In 2008, Democratic Representative Dennis Kucinich of Ohio nearly lost his Cleveland area seat after memorably running in the primary as the "peace candidate" opposing the Iraq war. His campaign was cut short when he was forced to scuttle back home to stave off a strong challenger. Kucinich says he believed in what he was doing and "never thought about" how his presidential run would affect his future in Congress. "And I still don't think about it. You can't really be concerned with whether it's going to help you or hurt you politically."
This year his luck ran out. Redistricting forced Kucinich to run against fellow Democrat Marcy Kaptur in the primary. Kaptur, who campaigned on her steadfastness to the voters of Northern Ohio, routed him. He briefly entertained the notion of riding his peace train to Washington State and seeking a congressional seat there, but ultimately opted not to. He'll soon be out of a job.
The psychological blow of being reduced from presidential contender to former congressman can't be easy or pleasant. McCotter, for one, rejects the notion that his current difficulties are related to his presidential run. "That line of thinking is idiotic," he says. Nevertheless, his example suggests that lawmakers smitten with the spotlight would do well to keep at least one eye on the audience back home.
BOTTOM LINE -
The bottom line: Thaddeus McCotter is the latest in a line of representatives whose failed presidential ambitions could cost them their careers.
Before it's here, it's on the Bloomberg Terminal.
LEARN MORE