Pernod Tries to Rejuvenate Its Ricard Liquor Brand
As sales of its flagship lag, Pernod tries to rejuvenate the brand
by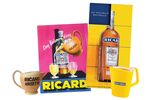 In the 80 years since Paul Ricard cooked up the first batch of the anise liquor that would bear his name, the recipe for serving it hasn't changed: Mix one part Ricard with five parts water to create a pale yellow, opaque concoction traditionally drunk as an aperitif. It's not a drink that's aged well with young consumers. "When I go out with my friends, I drink beer or whiskey and Coke," says 27-year-old Mathieu Camilleri, who works at a high school in the southern French town of Solliès-Pont. "I remember my granddad drinking Ricard when I was a kid."
Modernity has spurred Pernod Ricard, the Paris company that owns the brand, to give it a makeover as Ricard's French sales have dropped 8 percent this year after a tax increase on spirits. In 2011, Pernod introduced a new bottle for Ricard, with a square bottom and the brand name embossed on the sides. And it has updated the water glasses and jugs it provides to bars, historically used for marketing because of restrictions on print ads in the brand's early days.
The company has, though, maintained Ricard's signature bright yellow and blue colors in its promotional materials. "You're more able to communicate the spirit of the brand if you refer to the roots," Chairman Patrick Ricard, whose father invented the drink in his Marseille kitchen in 1932, said at an exhibition of Ricard advertising and design at the Musée des Arts Décoratifs in Paris.
In one respect, Ricard is turning away from its heritage. The company is suggesting new ways to drink the liquor, such as strawberry cocktails, mixes, and even adding flavors such as mint or almond in the bottle itself. "Some years ago, we said 'Ricard—only Ricard,' " meaning the basic serving recipe ought to be good enough for all drinkers, says Philippe Savinel, who oversees the brand for Pernod. "But we have to consider new ways of drinking it."
Ricard is one of France's best known—and loved—brands. Its logo adorns ashtrays, mirrors, and water jugs in thousands of bars, and the name evokes summer vacation, the south, and long, lazy outdoor lunches on small-town squares. Yet sales of all brands of anisette liquor have fallen 1.1 percent over the last five years in France, vs. a 1.6 percent gain in spirits, researcher Euromonitor International estimates. "It's a declining category," says Trevor Stirling, an analyst at Sanford C. Bernstein who follows Pernod, which also owns Absolut vodka, Chivas Regal whisky, and Martell cognac. "It's a generational thing. Older people drink a lot more pastis."
Rivals have benefited from suggesting new ways to consume their drinks. Davide Campari-Milano, for instance, has rejuvenated its Aperol brand by promoting cocktails such as the "Aperol Spritz," a mélange of the bitter liquor, prosecco, orange juice, and soda water. That has helped boost the brand's revenue to about €152 million from €23 million since Campari bought it in 2003, according to Nomura Securities International. "With Aperol Spritz, they've taken a rather odd drink and created a mix," says Nomura analyst Ian Shackleton.
While some French drinkers blend Ricard with flavored syrups and Canadians may pep theirs up with cranberry juice, the strong aniseed flavor dominates a cocktail more than neutral spirits. "Frankly, it's quite difficult to hide the taste," Shackleton says.
There's also little chance of expanding exports. Countries with a taste for anise drinks already produce their own varieties, such as raki in Turkey and ouzo in Greece. And consumers in emerging markets such as China and India find the taste of aniseed medicinal, ruling out the prospect of piggybacking on growing demand for other Western-style spirits, Savinel says. That leaves its current markets, he says, where Pernod has to "stop the decline, to think to the future, and to rejuvenate the brand."
Before it's here, it's on the Bloomberg Terminal.
LEARN MORE