Bid & Ask: The Deals of the Week
Noteworthy expenditures of the week
By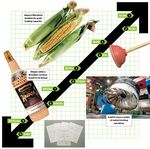 1. Japan's biggest agricultural trader, Marubeni, will buy U.S. grain merchandiser Gavilon Group for $3.6 billion. The deal will double Marubeni's grain trading capacity.
2. Lehman Brothers Holdings reached a deal to pay Bank of America and Barclays $1.6 billion for their 26.5 percent stake in Archstone. The deal gives Lehman full ownership of the real estate company.
3. Barclays, the U.K.'s second largest bank by assets, is selling its German housing unit, Baubecon, to Deutsche Wohnen in a deal valued at $1.6 billion.
4. Russia's No. 2 oil producer Lukoil plans to list more than $1 billion of its shares in Hong Kong within the year, as it seeks to develop projects in Asia.
5. Goldman Sachs Group's private equity unit and P2 Capital Partners will buy Interline Brands, a distributor of janitorial, plumbing, and lighting products, for $811 million.
6. The world's No. 2 maker of hydropower turbines, Austria-based Andritz, bid $745 million for Schuler, a German maker of metal-forming machines.
7. Malaysian bank RHB Capital will acquire OSK Investment Bank for $620 million to become the nation's No. 1 equities brokerage.
8. London-based distiller Diageo, the maker of Smirnoff vodka and Johnnie Walker Scotch whisky, will pay $453 million for Brazilian cachaça brand Ypióca to expand in emerging markets.
9. São Paulo-based BTG Pactual Participations is buying a 40 percent stake in Brazilian apparel and home furnishings retailer Leader Participações for $333.4 million.
10. On June 15, Sotheby's will auction four pages of instructions handwritten in 1974 by Steve Jobs. The document, in which Jobs suggests improvements for the Atari arcade game World Cup, is expected to fetch as much as $15,000.
Before it's here, it's on the Bloomberg Terminal.
LEARN MORE