After Dewey & LeBoeuf, It's Lawyers v. Lawyers
The bankrupt firm may take a decade to wind down
By and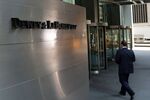 Creditors waiting to know if and when they will get paid by Dewey & LeBoeuf may want to consult the case of Coudert Brothers, the law firm that filed for bankruptcy in 2006. Nearly six years later lawsuits related to its collapse are still wending their way through the courts, with a federal judge ruling on May 24 that former partners may be on the hook for revenue from cases they took with them to their new jobs.
Unwinding Dewey, which filed for protection from creditors on May 28, marking the biggest bankruptcy in the legal business, probably will be even more complex. The product of a 2007 merger between Dewey Ballantine and LeBoeuf, Lamb, Greene & MacRae, the mega-practice at one point had more than 1,300 attorneys spanning 12 countries. The firm, based in New York, fell apart in a matter of weeks this year after ousting its chairman and watching at least 250 of its 304 partners decamp to competing firms. "I wouldn't be surprised if the wind down took a minimum of six to seven years," says Edwin Reeser, a former managing partner for the Los Angeles office of Sonnenschein Nath & Rosenthal. "It could take 10."
With few assets except their bills and partners, law firms' liquidations tend to be drawn out and contentious. "They don't have much of anything—other than perhaps some lawsuits—once their moneymakers leave," says Stephen Lubben, a bankruptcy law professor at Seton Hall University School of Law.
Lawsuits filed by the bankrupt estate can delay the process—especially when the defendants are lawyers. Heller Ehrman, which collapsed in 2008, and Brobeck, Phleger & Harrison, which dissolved in 2003, are still in the process of being unwound. "Their profession is fighting this stuff, and they're like professional boxers," says Chip Bowles, a bankruptcy lawyer with the firm Bingham Greenebaum Doll in Louisville.
In 2008 the administrator in the Coudert bankruptcy sued 10 law firms, claiming they were liable for any profits derived from pending cases the firm's partners took with them after Coudert dissolved. The firms argued that since Coudert operated on a billable hour model rather than a contingency fee system, the cases ceased to belong to it after it filed bankruptcy. U.S. District Judge Colleen McMahon disagreed and denied the firms' motion to dismiss.
Dewey owes bank lenders and bondholders $225 million, according to its May 28 filings in bankruptcy court in Manhattan. Outstanding bills to clients in the U.S., carried on the books at $255 million, may be collected at the rate of about $3 million to $7 million a week and may never be paid in full, Dewey said.
If the estate deems that Dewey was technically insolvent as early as 2010—that is, it already lacked enough money to pay debts—roughly 200 ex-partners who had equity in the firm could face $500 million or more in demands for compensation clawbacks, as well as an additional $50 million in claims for removing unfinished client business, says Reeser. A group of former Dewey partners has retained legal counsel in the event the estate comes after them.
Ironically, the litigation that prolongs a bankruptcy doesn't always bring in much money. The Coudert estate doesn't expect to pay unsecured creditors more than 39¢ on the dollar. Says Reeser: "Dewey is essentially a zero-asset bankruptcy for the unsecured. There is nothing there for them to get."
— With assistance by Stephen Joyce
BOTTOM LINE -
The bottom line: Law firm bankruptcies are long and messy. Lawsuits relating to Dewey & LeBoeuf's collapse will take years to resolve.
Before it's here, it's on the Bloomberg Terminal.
LEARN MORE