business
A Robust Germany Doesn't Work for Greece
Low unemployment reduces pressure for action
By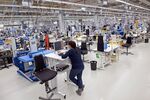 Politically speaking, there's nothing worse for Greece (and the rest of Europe) than the announcement today from Nuremberg, Germany, that German unemployment fell in May to its lowest level in two decades of record-keeping.
The Federal Labor Agency reported that Germany's seasonally adjusted jobless rate fell to 6.7 percent, from 6.8 percent in April. Greece? At last measurement back in February, its unemployment rate was 21.7 percent.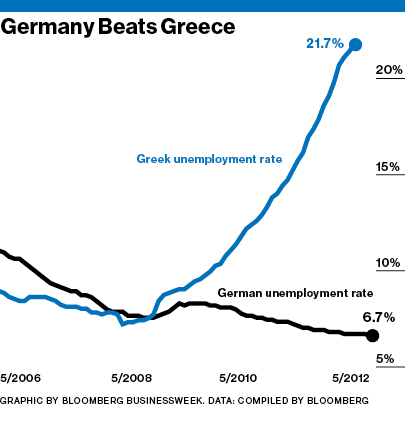 Demand for workers in Germany "remains at a high level" and a turning point toward higher unemployment "definitely" isn't in sight, Frank-Juergen Weise, the labor agency's head, told reporters in Nuremberg, according to Bloomberg News.
To date, the European financial crisis has been outright good for Germany. It has lowered the value of the euro, making German goods more competitive on the world market. The good news won't last if the situation really unravels, because then German banks will take enormous losses on loans to bigger nations like Spain. But for now, it's hard to keep Germans focused on the gravity of the situation.
Italian Prime Minister Mario Monti today pressed German Chancellor Angela Merkel to take more dramatic action to keep the crisis from spiraling out of control.
It's hard to remember, but back in 2006 Germany's unemployment rate was higher than Greece's. The crossover occurred around 2008, and there's been no looking back.
Before it's here, it's on the Bloomberg Terminal.
LEARN MORE