Office Upgrade: The 37-Year LED Desk Lamp
By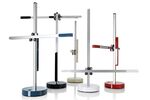 What it is: an LED lamp that extends bulbs' life to 37 years
Cost: $899
Personal desk lamps are a great way to customize your workspace and give your eyes a rest—when they work. But once those taken-for-granted bulbs go out, workers are left temporarily squinting in the dull haze of overhead fluorescents.
Designer Jake Dyson, son of famed industrial designer James Dyson, has a solution: a superlamp. These $899 CSYS lamps redirect damaging heat away from the LED bulbs so they last 160,000 hours, or about 37 years if used 12 hours per day, he says. (We sadly don't have time to put this claim to the test.) The arm glides up and down along the neck, as well as back and forth, and can also spin around. It stays in position when released. The light is dimmable, and moving it up and down adjusts the spread of the light.
"CSYS technology was designed to address these problems in existing LEDs—poor heat management, weak light distribution, color erosion, and the lack of a comfortable shade of warm white," Dyson says in a press release.
The CSYS desk lamp is available on jakedyson.com, lumens.com, luminaire.com, and DDC in New York. A floor lamp model will be introduced later this year.
Before it's here, it's on the Bloomberg Terminal.
LEARN MORE