India Needs Doctors, Nurses, and Health Insurance
Indian healthcare lags the Chinese
By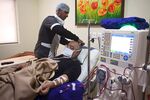 As he tries to transform his Indian hospital company into an Asian regional health-care business, Malvinder Mohan Singh should have a natural advantage: low-cost Indian talent. Singh is chairman of Fortis Healthcare, the New Delhi-based company with a collection of medical-related businesses around the region, such as primary care clinics in Hong Kong and dental centers in Australia. On May 29, the company said it hopes to raise as much as $360 million through a Singapore listing of its regional operations.
Just as Indian IT services outsourcers leverage inexpensive workers in Bangalore to win customers worldwide, can't Fortis take advantage of the many doctors at its 66 hospitals in India and become a leader in medical outsourcing?
Not so, says Singh. When it comes to medicine, India isn't the superpower you might think it is. "We don't have enough medical talent," he said during a recent visit to Hong Kong. Yes, India has 1.2 billion people and world-class medical education to be had. Still, many of the country's top doctors leave to practice in the West. It's not just MDs in short supply, but many health-care professionals. "We are not generating enough doctors, nurses, technicians in India, linked to what our needs are," he said. "There is a pool and it's very good—but it's not enough."
That's just one of India's problems of health care, which suffers in comparison to that of its Asian neighbor and rival, China. India has just six doctors per 10,000 people, while China has 14 per 10,000, says B. Kemp Dolliver, head of health-care research in Singapore with Religare Capital Markets. Both Asian giants are far behind such developed economies as the U.S., with 27 per 10,000, and Australia, with 30 per 10,000.
India lags in broader measures, too, most notably in health insurance. Less than 20 percent of Indians are covered by policies, says Singh. China has almost universal coverage, with 95 percent of the population covered by some sort of insurance, according to Jason Mann, head of China health-care equity research at Barclays in Hong Kong. China has made significant progress in just a few years, he says: In 2009, before the Chinese government launched its latest effort to expand coverage, just 40 percent of Chinese had health insurance. Health-care reform in China remains a work in progress, with the government looking to make coverage more comprehensive, while also opening the local hospital market to foreign investment. China's government needs to do this, says Mann, as millions of Chinese want better care. "Their expectations are rising by the day," he says.
India, too, has a growing middle class, but the coalition government of Prime Minister Manmohan Singh has struggled to push through a range of significant economic reforms and is therefore hard-pressed to match China's moves in health care. Health Minister Ghulam Nabi Azad has an idea to address the brain drain: Last month he said the government will start requiring that Indian doctors going to the U.S. for advanced medical studies post a bond to ensure their return to the country. Only a few thousand Indian doctors go to the U.S. each year, though; meanwhile, India faces a major health-care infrastructure shortfall. There are just nine hospital beds per 10,000 people in India, compared with 41 per 10,000 in China.
Even with the Indian economy slowing and the government weak, some hope the country will make progress in closing the health-care gap with China. Fortis Healthcare boss Singh, for instance, sees experiments at the state level in India to offer health insurance to poor Indians. He predicts that "many leading states" will have some form of health insurance for their poorest citizens five years from now. Singh himself is targeting wealthier Indians, with Fortis moving into the market for private insurance.
Others are not as optimistic. Given the many other challenges India's poor face, expanding health insurance coverage isn't going to top the agenda for the country's politicians, says Dolliver. "It doesn't strike me as one of the top three concerns that will move an election," he says. While there might be talk among policy makers about enacting some changes, "anything dramatic is years away," Dolliver says. "Many years away."
Before it's here, it's on the Bloomberg Terminal.
LEARN MORE