business
June Beckons for Fortress Rajoy
By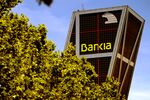 Using public-debt securities instead of cash to bail out BFA-Bankia, the lender Spain nationalized on May 9, may shift the burden of recapitalizing it to the Frankfurt-based European Central Bank because banks can use such securities as collateral to get cash from the central bank. Spanish lenders' net average borrowings from the ECB rose to a record €264 billion ($330.6 billion) in April, compared with €42 billion a year earlier, according to data from the Bank of Spain.
—Emma Ross-Thomas and Charles Penty, "Rajoy Seeks European Backing As Spain's Access Narrows," Bloomberg News, May 28, 2012.
I am losing scope and scale. My "access narrows" in euro-fatigue. I am losing ability to gauge, judge, and measure the little from the big of our Crisis of Europe.
"A record 264 billion euros" seems like a lot. Is it?
Some $24 billion to keep Bankia going? Is it? In the vicinity of $5 billion to mend Fortress Dimon? Is it?
Compare and contrast.
The national outrage over JPMorgan Chase is $15.93 per American. (Give or take non-prop-trading adjustment; it is believed that the bank can cover this from here to eternity.)
Getting Bankia to June is $510.18 per Spaniard. (Give or take Gironaian condo appraisal; it is believed that the Kingdom of Spain cannot cover this … now.)
June beckons for Fortress Rajoy. Discuss.
Before it's here, it's on the Bloomberg Terminal.
LEARN MORE