business
ForumWatch: Is Wharton Slipping?
Francesca Di Meglio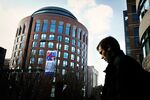 Is the Wharton School at the University of Pennsylvania in a downward spiral? A fixture atop many business school rankings, including Bloomberg Businessweek's most recent ranking of full-time MBA programs, Wharton would seem to hold a lifetime membership in the elite B-school club. But missoxiro posed that question recently at the Bloomberg Businessweek Business School Forums, citing declines in salary, yield, and employment.
Many of those who responded explained that it's not so much that Wharton is slipping but that its competitors are rising faster. "Wharton is not in decline," writes Surfer947. "It's just that #3 is getting more crowded these days because some schools are surging up."
So what do you think? Share your opinion at the "Wharton decline" discussion thread.
Editor's Note: This blog post is part of a series about discussions taking place on the Bloomberg Businessweek Business School Forums, where prospective MBA program applicants, current students, and recent alumni trade admissions tips, job hunting advice, and the occasional barbed comment. We invite you to join these discussions or start one of your own.
Before it's here, it's on the Bloomberg Terminal.
LEARN MORE