business
Americans' Confidence Is Down. Why?
Two of three indexes decline
By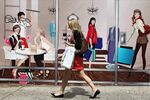 Maybe what mopey America needs right now is an exuberant rendition of June Is Bustin' Out All Over. (Even if technically, June won't bust out until Friday.)
The Conference Board said today that its index of consumer confidence fell to a four-month low of 64.9 in May, further below a downwardly revised 68.7 in April. As Bloomberg News observed: "A 30-cent decline in gasoline prices since early April failed to brighten spirits."
The Conference Board dip is consistent with one picked up earlier by the Bloomberg Consumer Comfort Index, which is weekly, rather than monthly. Bloomberg's measure rose strongly in the first quarter and then started trending down sharply in mid-April before bouncing up a bit in the latest reading. (It stood at -42 for the week ended May 20, up from -43.6 the week before.)
Americans were enthusiastic when the U.S. added 275,000 jobs in January. They understandably felt a bit deflated when the economy added just 115,000 jobs in April. "The labor market's clearly softened and that's reflected in public attitudes about the economy's condition," Gary Langer, president of Langer Research Associates, which conducts the consumer comfort index for Bloomberg, writes in an e-mail.
The only one of the Big Three consumer measures that hasn't shown a dip yet is the Thomson Reuters/University of Michigan Consumer Sentiment Index. Its May reading, released last Friday, came in at 79.3. It was the ninth straight gain. It put the index at its highest point since October 2007, before the recession began—though just barely above peaks achieved in early 2010 and early 2011.
If history is any guide, the Michigan number could be in for a flattening or a tumble as well. Each year, "it seems to get stuck at about the level it's at now," says Richard Curtin, director of the Michigan consumer sentiment surveys. Curtin takes pains to note that his index is far from sunny. "There's still a considerable amount of improvement to be made before we would talk about consumers being optimistic."
The three indexes, despite different questions and methodology, tend to move up and down in rough unison. That's another reason to think Michigan's status as the optimistic outlier might not last.
What's next for the consumer? Lynn Franco of the Conference Board thinks consumer confidence will stay around current levels for the rest of the year, assuming job growth averages around 150,000 to 170,000 a month. Writes Langer, who conducts the Bloomberg survey: "We may be in for a period of some instability as consumer sentiment, battered as it's been the past four years, works its way through current economic and political cross-currents."
Before it's here, it's on the Bloomberg Terminal.
LEARN MORE