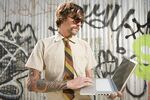 There's an awful lot of choice out there for people looking into file-syncing and -storage services. Folks used to Google's world will glom onto Drive, while Windows bigots—such as exist—will end up on SkyDrive. Then there are the "cool kids" on Dropbox or Box. But say for a moment that you're not a "drive" or a "box" type. You're a cloud hipster, and you need to store and sync files in an unconventional way. What to do?
Well, the hardcore types out there do have options—namely ownCloud and Cubby. They offer a bit more freedom than the mainstream services around how and where you store information. That said, it's early days for both services, so you will be living on the edge.
With ownCloud, you get to do exactly what the name says, which is build your own, private cloud. Courageous types can download the open-source software onto a PC and turn the machine into a type of command-and control center. The PC, acting as a server, will coordinate the syncing of files between different computers and mobile devices.
"That sounds like an awful lot of work," you say.
True, but with ownCloud you own your data. Your information is not living on servers managed by Dropbox or Google or Microsoft. It's living on your computers, which are now helpfully synced together. And, if you really want, you can link the ownCloud server to the other cloud services so that your files get saved on your private cloud and in a public cloud for extra protection. What's more, you can use ownCloud to link together multiple file syncing services such as Dropbox and Google Drive, so ownCloud becomes a type of glue for the cloud world.
This ownCloud software will likely appeal most to businesses that want to keep their data in their hands and to technically adept people that want more independence. And hipsters.
If this all sounds too tough, you can sign up for Cubby.com.
This service is for cloud hipsters because it's still in beta, and you need to get invited to use it. LogMeIn, which makes very popular remote log-in applications, created Cubby as a competitor to things like Dropbox and Google Drive. The upside of Cubby is that you can bestow any folder—rather than just one, as demanded by Dropbox—with file syncing powers.
LogMeIn is late to the game with this type of service, but it represents a formidable competitor to Dropbox and even the big boys, Google and Microsoft. Over the past few years, LogMeIn has developed technology that specializes in moving lots of data between PCs and data centers at a low, low cost. It also already has its log-in software running on about 125 million devices, which is a big footprint to leverage.
Before it's here, it's on the Bloomberg Terminal.
LEARN MORE