With Unrestricted Incentive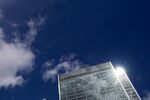 Matthew Zames, the banker named to clean up JPMorgan Chase & Co.'s $2 billion trading loss, has 693,285 restricted and unrestricted shares valued at $23.8 million as of yesterday.
—Dawn Kopecki and Michael J. Moore, "JPMorgan CIO Zames Has $23.8 Million in Stock Plus Options," Bloomberg News, May 24, 2012, 3:52 p.m.
He's unacceptable. How dare one "cleaning up" clean up with tax-preferenced shares.
I have the foggiest recollection of my mother scheming, positively scheming, for me to land some boring trainee, career-path path at JPManufacturers Hanover and/or Continental Illinois.
I showed restricted interest.
We are fixated on evil Wall Street. I don't know evil Matthew Zames from evil Travis Zajac. What I do know is "compensation" is battled out at the microeconomic level. (Or, in the case of Mr. Zajac, behind the Brodeurian net.)
Mr. Zames will wake tomorrow concerned and anxious over his marginal "comp." That is timeless. Let us hope, in the process he "cleans up," with unrestricted incentive. Discuss.
Before it's here, it's on the Bloomberg Terminal.
LEARN MORE