U.K. Business Students Cut Class More Than Most
Alison Damast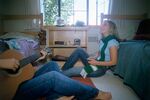 Business students in England may not be so different from their U.S. counterparts across the pond when it comes to their often apathetic approach to schoolwork. According to 2012 Academic Experience of Students at English Universities, a report published by the Higher Education Policy Institute (HEPI), undergraduate business majors in the U.K. have one of the lightest workloads of students surveyed, and spend less time preparing and attending class than many of their counterparts in other academic areas.
U.K. business majors reported that they only spend about 11 hours a week on "private study" outside of class, the second-lowest number of the 16 academic areas surveyed, followed only by mass communications and documentation majors. That's nearly two-and-a-half hours fewer than the typical U.K. student, who averages 14.4 hours on activities like reading, researching, and writing essays and reports, the survey found.
The findings are in line with the National Survey of Student Engagement, which last year found that nearly half of senior business majors in the U.S. spent fewer than 11 hours a week studying outside of class.
U.K. business majors also fared poorly in other areas the survey examined. For example, business students were the biggest culprit of all when it came to cutting class, missing about 13 percent of scheduled class time, the study found. They also lagged in terms of total workload, which includes time spent in class and private study, with business students devoting 21 hours a week to their major, ranking second to last yet again.
Perhaps not surprisingly, business students were required to spend less time in class than many other majors: 12 hours a week, compared with 18 hours for engineering and technology students and 16 hours for physical sciences majors.
Bahram Bekhradnia, the HEPI director and author of the study, points out that the lackluster performance of business students comes at a time when U.K. students are generally working harder—total workload for all students averaged 27.2 hours per week, up from 25.5 hours in 2007. Students in medicine and dentistry work even more, over 35 hours a week, he wrote, "the equivalent of a full-time job—but for others it resembles part-time employment."
The study's findings are not necessarily an accurate portrayal of business students in the U.K., as the report doesn't take into account different approaches business professors may take to teaching their subject, said Joe Clark, head of policy development at the U.K.'s Association of Business Schools, in an interview.
For example, most business classes today are predominately research- and seminar-based, which means the classwork can "be done anywhere and is not necessarily done in a specific location," he said. Many business instructors now have a "blended learning approach" and post their classes' lectures online. Students may choose to watch the video from their home computer or listen to a podcast on the bus ride home, but that doesn't necessarily mean they are skipping class, he said.
"The report doesn't give you much context. It's just a very broad-brush kind of thing," he said.
If U.K. business students feel shortchanged, they're not complaining. About one in eight students in the U.K. today are business majors, according to the Association of Business Schools, the representative body for U.K. business education. The latest national student survey found that 82 percent of U.K. business majors are satisfied overall with their experience. Says Clark: "There's no correlation between student satisfaction and hours taught."
However, business students, like all other undergraduates in the U.K., will soon be paying more for their education. The U.K.'s university tuition fees are set to rise this fall, with universities allowed to charge up to £9,000 in tuition fees. The lingering question is whether students will demand more for their money, whether that means more face time with professors or heavier workloads.
Join the discussion on the Bloomberg Businessweek Business School Forum, visit us on Facebook, and follow @BWbschools on Twitter.
Before it's here, it's on the Bloomberg Terminal.
LEARN MORE