Mobile Payments Coming to a Loyalty/Deals App Near You
Ryan Kim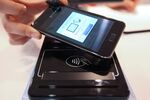 Groupon is reportedly testing out its own Square rival, a mobile payments system for merchants that will undercut Square and other competitors' transaction fees, according to a report by Rocky Agrawal at VentureBeat. Agrawal said he's heard from a business that has been approached by Groupon about the payments system that would work with iOS devices. That system, apparently already being tested in the Bay Area, would offer a 1.8 percent transaction fee plus a 15¢ per transaction charge. That would be, in many cases, cheaper than Square, which has a flat 2.75 percent transaction fee, and PayPal Here and VeriFone's SAIL, which have 2.7 percent transaction fees.
The report is interesting, and we'll have to see if the tests lead to a widespread product. It could put more pressure on existing payments players and potentially cut into the growth prospects of Square and others if it can find traction. Groupon is reportedly offering merchants a free iPod Touch, not just a credit-card reader, to process transactions.
But it got me thinking that it seems like a number of loyalty and deals apps will start going down this road, adding mobile payments as a way to build out their services. These days, a big land grab is going on in local. People are trying to provide merchants with tools for deals and offers, loyalty and payments. Some of the latest payments plays, such as Google Wallet's and Isis's two NFC wallets, are trying to tackle all those services. But we have some other startups that are coming at this from a deals or loyalty angle, and increasingly they are moving to offer the entire package to appeal to merchants.
LevelUp, for example, started out as a Groupon competitor but then retooled by building its own payments system into its app using help from Braintree. Now consumers can not only take advantage of discounts but also transact right through the app, closing the loop on offer redemptions. That's a key point, because it means a merchant can understand how effective these programs are because they can see exactly how much money they're generating.
With more payments tools such as Braintree, Stripe, Card.io, and CardSpring, which allows people to sync their credit card to an app, we are seeing more apps with built-in payment services. I just wrote about two loyalty services, Cardify and Mirth, both launched this week, that use CardSpring as a way to track and reward spending. Groupon itself introduced its own Groupon Rewards loyalty program earlier this month that allows consumers to sync their credit cards to get rewarded for their purchases at certain merchants.
Ultimately I think we'll see more of this convergence as these apps try to become a one-stop shops for merchants, providing deals for demand generation, loyalty for continued engagement, and payments to close the loop and track spending. It's going to get really confusing for local businesses, which will have to decide who they want to turn to as their local operating system, a term Groupon's chief executive, Andrew Mason, coined recently.
That also means I wouldn't be surprised if Foursquare gets into the mobile payments arena. It already provides specials, and with its partnership with American Express, it allows those cardholders to redeem AmEx deals by just using their credit cards. But if it wanted to, Foursquare could easily add a broader payments system or a card-tracking system of its own. That would help it explain to businesses how valuable the Foursquare service is. Right now merchants are rewarding user check-ins, but they don't have a way to tie rewards to actual spending through Foursquare. This could introduce a new level of complexity for merchants, depending on the solution chosen. But it may be worth it for Groupon, Foursquare, and others to look at becoming more of a resource and service for merchants.
Also from GigaOM:
Mobile Payments: Forecasts, Technologies, and Opportunities (subscription required)
Introducing the V-Pole, a Connectivity, Electricity, Utility Pole Mashup
You'll Flip Over the First Video From Google's Project Glass
PayPal Quietly Starts Marketing In-Store Payments to Consumers
Before it's here, it's on the Bloomberg Terminal.
LEARN MORE