business
B-School Research Briefs
Francesca Di Meglio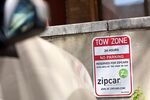 Researchers at top business schools have been busy publishing papers on everything from marketing to economics to business schools themselves. What follows are some of the more notable studies.
Business Schools, Under the Microscope: While many fields have embraced the use of analytics, business schools have clung stubbornly to their old ways. That's the conclusion reached by researchers at the University of Iowa's Tippie College of Business, who found little evidence that MBA students were being trained in the fine art of data analysis.
Tippie professors Ken Brown and Sara Rynes, and Steven Charlier, a Tippie doctoral student and incoming faculty member at Quinnipiac University, examined the syllabi of more than 800 management courses offered in 333 MBA programs and determined that only 26 percent of the syllabi used language that suggested the importance of research evidence for management practice. Only two used the phrase "evidence-based management," and programs ranked in the top 50 were more likely to offer courses consistent with such practices, according to the study, "Teaching Evidence-Based Management in MBA Programs: What Evidence Is There?" which was published in the journal Academy of Management Learning and Education.
Selling Cell Phones to Neurotics: While advertisers might be hung up on reaching specific demographic groups, they should be targeting personality traits instead, according to a study published in Psychological Science. Jacob Hirsh of the University of Toronto's Rotman School of Business, Sonia Kang of the University of Toronto, Mississauga, and Galen Bodenhausen of Northwestern University's Kellogg School of Management conducted the study.
The team recruited 324 people and had them look at advertisements that featured a picture of a cell phone next to text aimed at the motivations of a particular personality type. (For example, an ad for neurotics read: "Stay safe and secure with XPhone.") Participants then rated the effectiveness of the advertisements and described their own characteristics by answering questions. In every case, according to the research, people rated ads as being more effective when they aligned with their personality profile.
Enough About the Environment: Commercial sharing systems, such as Zipcar, a car-sharing company, typically highlight the environmental benefits over everything else, assuming consumers are motivated by a desire to do good for the environment or to take the moral high ground. Unfortunately they're not. Consumers using these kinds of services are actually motivated by price and product availability most of all, according to "When Is Ours Better than Mine? A Framework for Understanding and Altering Participation in Commercial Sharing Systems." The study, which will be published in the Journal of Marketing, was written by Cait Poynor Lamberton of the University of Pittsburgh Katz Graduate School of Business and Randall L. Rose of the University of South Carolina Moore School of Business.
The duo conducted experiments on three sharing systems: a car service similar to Zipcar, cell-phone minute-sharing plans of multiple carriers, and a bicycle-sharing plan used by college students. For the car service, they had 369 licensed U.S. drivers answer questions about their monthly car ownership costs before providing information adapted from the Zipcar website to determine the likelihood that they would choose a car-sharing program. One of the major takeaways, according to the research, is that these sharing systems should focus less on the environment and more on the parallels between ownership and sharing to help quell consumer fears about sharing and reach the most potential customers.
Join the discussion on the Bloomberg Businessweek Business School Forum, visit us on Facebook, and follow @BWbschools on Twitter.
Before it's here, it's on the Bloomberg Terminal.
LEARN MORE