The 'Fifty Shades of Grey' Stimulus
E.L. James's erotic bestseller means big business for the sex toy industry
By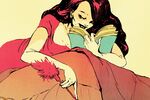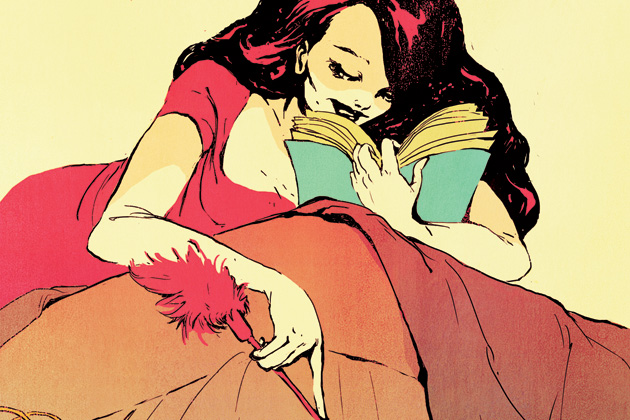 In early May, at a suburban home in Chattanooga, Cindy Faulkner began unpacking one of several boxes, removing lingerie, blindfolds, massage oils, and dildos to display for the half dozen women gathered. Faulkner is a sales consultant with Ohio-based Pure Romance, the Amway of vibrators, and she was the guest of honor at a party of the sort one might normally associate with Tupperware. Before Faulkner could even finish unpacking, two of the guests began asking her about the Fifty Shades of Grey books, the bestselling erotic romance trilogy written by overnight British sensation E.L. James. Did she have any of the toys featured in their favorite scene, including a tickle and whip (a leather riding crop with a feather on one end), blindfolds, and a set of Ben Wa balls (a vaginal exercise device)? Yes. "It's like waking a sleeping giant for some of these women," says Faulkner, whose sales and party bookings have increased 15 to 20 percent in the past two months, helping Pure Romance's 75,000 consultants set a pace for $120 million in 2012 sales. "My business is about to explode."
Originally written as Twilight fan fiction in 2011, with explicit sex scenes featuring bondage and submission, they were converted by James into a series of books first released by a small Australian outfit called The Writer's Coffee Shop Publishing House. They gained traction by word of mouth and were republished in April by Vintage Books. In less than two months the story of Anastasia Steele and Christian Grey—virginal student meets troubled older billionaire, who turns her into his sex slave and rocks her world through a dizzying array of scenarios—has already sold over 10 million copies in the U.S. alone, split evenly between digital and print, according to Vintage spokesperson Paul Bogaards. In late March, Universal Pictures secured the film rights for an estimated $5 million, according to the Hollywood Reporter.
Aside from making millions for Random House, Vintage's parent company, and James, the books have provided a tremendous boost to the adult entertainment industry, as readers attempt to replicate the characters' intricate bedroom scenes. Sherri Shaulis, senior editor of pleasure products at the adult industry news network AVN, sees the book's success as a transformational opportunity for the sector, specifically the BDSM (bondage, discipline, sadism, and masochism) market. "There's a lot of people who never considered buying handcuffs or a riding crop, and now they all want to do their little version of Red Rooms of Pain," says Saulis, referring to what Mr. Grey calls his apartment dungeon.
While the sex toy industry has seen individual products spike in the past—Vibratex sold millions of its Rabbit Pearl vibrators after it appeared on Sex and the City—the difference with Fifty Shades is that it specifically references an entire category of products. That's a boon for companies like Sportsheets International, a California-based manufacturer and distributor of entry-level bondage gear, with more than 500 products well suited for the book's adventurous fans. "It really hit our industry in the past four to six weeks," says Julie Stewart, Sportsheets' vice president and co-owner, who claims the company does $10 million in sales annually and will see growth this year of 20 percent to 30 percent, double the average. Much of that growth is expected to come from the company's Sex & Mischief bondage line, which Sportsheets plans to pair with a copy of the book as part of a promotion.
Retailers have been quick to jump on the Fifty Shades bandwagon, sensing a rare opportunity to attract mainstream customers. Babeland, a sex toy retailer based in Seattle, has launched a mini-site "inspired by" Fifty Shades of Grey that suggests dozens of items, from a scented massage candle to a set of vibrating nipple clamps. Claire Cavanah, Babeland's co-founder, says the books have breathed life into the moribund BDSM category, noting that sales of bondage gear jumped 375 percent in April. "Now we have an event called Fifty Shades of Hot Sex," Cavanah says, offering practical demonstrations on spanking and bondage. "About 150 people have responded in the SoHo store [in Manhattan], maxing out capacity. We had to add another section to take overflow."
What's made the economic impact of Fifty Shades in this industry so pervasive is its dominance of U.S. nightstands, even in conservative states. "New customers are coming in every day, mentioning that they got the book from their best friend, sister-in-law, their book club, and they were inspired to shop at our store," says Clare Jacky, general manager at the Minneapolis store Smitten Kitten, who has seen her business grow by 15 percent since last year, including a tripling of Ben Wa kegel balls. "I think the book has given an entire generation of erotica readers permission," says Jacky. "Permission to go to the sex toy store, to go to a workshop, to watch a video, to try spanking for the first time."
So far, none of this ancillary business has filtered back to Ms. James. "We are about to appoint a licensing agent," says her agent, Valerie Hoskins, who notes that the author has already been approached by potential licensees looking to brand Fifty Shades sex toys, adult theme parties, clothing, lingerie, frag-rances, cosmetics, jewelry, and teddy bears. Hoskins also says that they will soon try to rein in those trying to profit from the book's name. "We are contacting producers of products that are out there for commercial gain that are not officially licensed."
One of the anticipated effects of the Fifty Shades phenomenon will be the shift toward women, the bulk of readership, as more willing consumers in an adult entertainment industry traditionally dominated by male desires. Patty Brisben, founder and chairwoman of Pure Romance, sees Fifty Shades of Grey as a transformational book that will shift an entire generation's sexual behavior, on par with The Joy of Sex. "It's all women are talking about right now. If I'm at the bank or sitting with my attorneys, all women are asking each other, 'Have you read Fifty Shades of Grey?'"
For Carrie Gray, whose Toronto studio Aslan Leather manufactures and distributes BDSM toys globally, what's happening now is an acknowledgment of previously hidden desires by society, all at one time. She points out that while sales of Aslan's entry-level toys, such as brightly colored whips and ball gags, are up as much as fivefold over the past month, more "heavy-duty" items, including Houdini-like body restraints, are also selling well. "There's a lot of progressive people out there who don't necessarily identify as kinky," says Gray. "They just want good sex."