'Mulheres Ricas': The Surreal Housewives of Brazil
By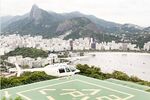 Where is the joy in flying to Paris for a weekend of shopping if your private jet has to stop along the way to refuel? Such are the hardships faced by the stars of a new Brazilian reality TV show called Mulheres Ricas, or Rich Women.
The show, which is preparing for its second season, follows five middle-aged women around Rio de Janeiro and São Paulo as they buy Bentleys (VOW:GR), Louis Vuitton (MC:FP) handbags, and Botox treatments. One of the stars, Val Marchiori ("blonde, tall, and thin," in her words), is a self-described "businesswoman" with no discernible business. She is almost always accompanied by a well-groomed man who serves as her 24-hour hairdresser and makeup artist. In the first episode, she searches for a replacement for her jet, which she regards as inadequate to her needs. At a crowded executive aviation fair, she wonders aloud, "Is there champagne on this plane?" Then she buys a $15 million jet after a quick phone call to her husband.
For Americans, the immediate point of comparison is the Real Housewives franchise. But whereas the moneyed ladies in North America are venomous drama queens with problems, the mulheres below the equator seem to glide above any suggestion of strife. The show revels in the pleasures of wealth, with long, indulgent shots of diamond necklaces, labyrinthine closets, and gold-plated champagne flutes. This is the new class of Brazilian millionaires for whom such brands as Tiffany and Coach have lately been opening new stores, and to whom Miami's real estate market owes its resurrection. Luxury sales in Brazil grew 20 percent last year, reaching $2.9 billion, according to Boston-based consultancy Bain & Co.
Many in Brazil have condemned Mulheres Ricas. Newspaper editorial pages appear horrified by the program's "vulgarity" and "ostentation." But ratings have soared. Mulheres Ricas is one of Brazil's most talked-about shows. New episodes consistently surfaced among Twitter's trending topics in Brazil—and worldwide, at least once.
"The acquisitive power, the good living, it's attractive," says Pablo Mazover, the show's director. Responding to critics, he argues that the antics on the show are not so different from the affluence depicted in Brazilian soap operas, which are watched fervently in this country of 190 million.
In Mulheres Ricas, as in the soaps, the lower classes make an occasional appearance—as domestic employees. In one scene, Brunete Fraccaroli, a rich blonde architect with imposing lips who actually has a Barbie doll modeled after her, instructed her maid to bring out wardrobe choices for a Maltese named Sissi. "She lives better than many people, unfortunately," Brunete says, referring to her dog.
The show mostly takes place in São Paulo, which Lydia calls "the jungle." Perhaps that explains why she employs so many bodyguards. Narcisa Tamborindeguy, a congressman's daughter from an old aristocratic family, represents Rio. She became famous in 2000 for publishing a book that exposed the cocaine-fueled life of Brazilian socialites. (Now a teetotaler, she explains, "I already drank an Amazon River of champagne.") In one episode, Narcisa takes Val for a helicopter ride. They point down at the favelas—Brazil's notoriously violent slums—and Val wonders aloud if their helicopter is bulletproof. Later, at her beachfront apartment, Narcisa sprays champagne from the window while shouting, "I am the face of Rio!"
For Fernando Andacht, a professor at the University of Ottawa who studies reality TV, Mulheres Ricas does more than present a fantasy of wealth. It reflects Brazil's newfound optimism and confidence on the world stage. "It seems it's almost a miraculously prosperous time for Brazil," Andacht says. "Instead of being an obscene provocation, the show could be saying, 'You're on your way.'"
Some of the featured women came from humbler backgrounds. Val grew up in a shack in Brazil's rural interior. ("I didn't even have milk for her to suckle," her mother says, choked up with emotion in the final episode.) Another participant, Débora Rodrigues, was poor in her previous life—someone who fought for agrarian reform as a member of Brazil's landless movement. In the 1990s she became a celebrity after she posed nude for the local edition of Playboy ("The Prettiest Landless Activist in Brazil," read the cover). She went on to a lucrative career in a niche motorsport known as Fórmula Truck. Speaking to her fellow rich women, she explains what drove her to pose for Playboy: "I did it for the money."
Before it's here, it's on the Bloomberg Terminal.
LEARN MORE