Mrs. Zuckerberg to the Rescue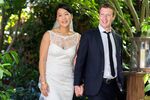 Priscilla Chan's gown, called "Sky Between the Branches," is a mermaid silhouette and features matte sequins and ivory cut-out lace and embroidery over silk charmeuse, with a sheer illusion back. It sells for $4,700 and was from Pettibone's 2010 "Cherry Blossom" collection.
Suzanne Brown, Zuckerberg's Wife Used Different Name to Quietly Purchase Wedding Gown at Denver Shop, Denver Post, Posted: 5/22/2012 03:09:31 PM PDT Updated: 05/22/2012 03:09:32 PM PDT
Talk about Quiet Period…
I run a hedge fund. We, Paris Wald and I, named it Food Court Capital. Our Sharpe Ratio is razor sharp as cut-out lace. Our market drawdown borders on sheer illusion. Fund of Funds throw 2-10 millions at us.
Today, our short on FB looked good and got better, persistently.
Facebook is a train wreck. (Even @SallieKrawcheck has weighed in, presciently, on Twitter.)
Earth to FB: Fix this quick. Bring in the quiet, the determined. Mrs. Zuckerberg to the rescue. Discuss.
Before it's here, it's on the Bloomberg Terminal.
LEARN MORE