MBA Journal: Hello, Real World
Nicole Hensel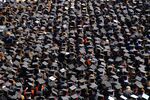 It's time to bid a fond farewell to London Business School. Farewell to the glorious, flexible schedule I've become accustomed to over the past year. Farewell to the constant buzz of intellectual stimulation, the amazing byproduct of 400 incredibly diverse people thrown together to mull over projects and problems big and small. Farewell to the world-class guest speakers who visit campus daily to contribute to lectures or class discussions. Farewell to the looming pile of debt I've accrued to make these last two years a reality. Wait … no, not farewell to that last one, but farewell to the feeling that I can't yet do anything to pay it back.
Hello, post-MBA career. Hello, post-MBA salary (you'll be helping me with that student loan). Hello, putting into practice everything I've learned over the past two years. Hello, real world.
It really does feel like the end of an era and the beginning of another. I started my new job last week. I am officially no longer a student. The transition is bittersweet; it has been quite a ride—tumultuous, nerve-racking, and sleepless at some points, exhilarating and inspiring at others.
The question you receive frequently as a newly minted MBA, right behind "What now?" is "Was it worth it?" Now, let's not forget the power of cognitive dissonance. Would any MBA, after shelling out an average of $100,000 for a two-year program really be able to say it wasn't worth it? I'm going to say unlikely. But human psychology aside, I can certainly say it was worth it for me.
Before business school I worked at a string of interesting jobs for small companies and startups, mostly in San Francisco. My last role as a marketing manager for a travel website was fulfilling, but I couldn't help wonder what it would be like to swim in the sea rather than a pond. Sure, I could have applied to a bigger company directly from my old job, but would the hiring manager have taken a second glance at my résumé after scanning a bunch of companies with little brand equity? Doubtful.
Business school, and specifically the unique program and diverse class at LBS, allowed me to acquire new skills and perspectives applicable to the global business environment. Business school held doors open for me, providing opportunities to meet and network with representatives from some of the world's best companies. I think I can safely say I would not have my current job if it weren't for the MBA and the opportunities it has provided.
At the end of the day, though, a job is just a job. Sounds a bit blasphemous coming from someone who just dropped $100,000 on a degree to advance her career, but in all honesty, I don't think the job is the be-all, end-all. As cliché as it sounds, I firmly believe it's not the destination but the journey that's important in this life. Over the past two years, the most eye-opening and thought-provoking moments I've experienced have taken place outside the classroom in the presence of the incredible network of friends I've developed. My favorite part about business school has been the constant comparisons and contrasts and the shifts of perspective as you look through the kaleidoscope of diversity that is LBS. As far as I'm concerned, no school in the U.S. could have offered me such a global, unique perspective, stretching my mind and my preconceived notions of how the world works. I consider this web of experiences and the network that continues to spin them for me to be the most valuable asset of my MBA.
Before it's here, it's on the Bloomberg Terminal.
LEARN MORE